Last year, I sent these delicious mini Pumpkin Muffins for my daughter's Halloween Class treat. I sent these rather than a bag of candy in hopes that the class would enjoy something half healthy during their Halloween Celebration.
Pumpkin Muffins
1 cup all purpose flour
1 cup whole wheat (if you don't have this, just double the all purpose flour)
2 tsp baking powder
1 tsp cinnamon
1 tsp nutmeg (optional)
½ tsp salt (optional)
¾ cup packed brown sugar
1 egg
1/3 cup canola oil
2/3 cup buttermilk
1 ½ cups pureed pumpkin (canned or fresh)
¾ raisins (golden works best with this recipe)
Variation: Add 2 apples, peeled and diced
Note: If you don't have buttermilk, add 1 Tbsp vinegar to 1 cup of milk.
Directions:
In a large bowl, combine dry ingredients.
In another bowl, whisk egg with oil. Stir in buttermilk, pumpkin and raisins/apples.
Pour liquid mixture into dry ingredients and mix just until combined.
Pour into 12 greased or paper lined muffin cups (or use mini muffin cups).
Bake in preheated oven at 400 degrees F for 22-28 minutes or until toothpick comes out clean.
---
How to Bake and Puree Your Own Pumpkin?
1) Put a sugar (or also called a pie) pumpkin in the microwave for approximately 2 minutes to soften it slightly. This makes it easier to cut.
2) Cut off the top (or lid) of the pumpkin.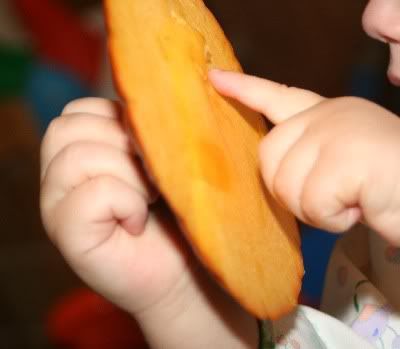 3) Cut pumpkin in half and scoop out the seeds and "gunk".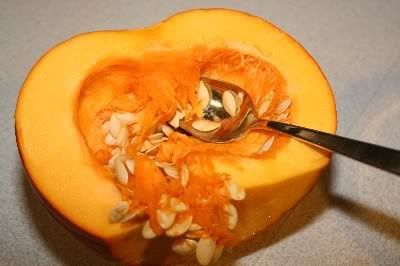 4) Place pumpkin halves face down in a 9×13 baking pan filled with approximately 1-2 cups of water. I often line the pan with parchment paper first.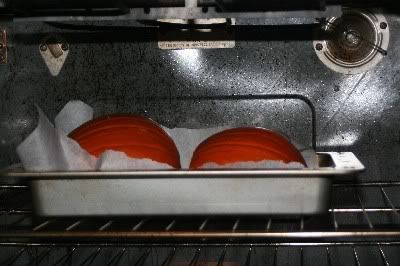 5) Bake at 350 degrees for 1-1 1/2 hours, depending on the size of the pumpkin. You know it's done when a knife slides in the entire pumpkin easily and the skin is a dark colour.


6) When the pumpkin is cool enough to touch, scoop out the flesh and place in a blender with a small amount of water (you can always add more if needed).


7) Puree.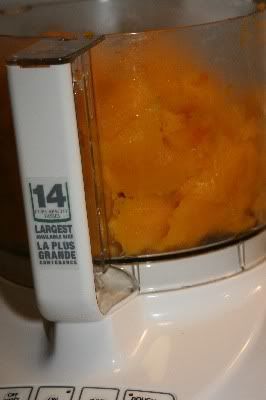 ---