I received a bucket of OxiClean® Versatile Stain Remover Powder to test out in my home. This powder is a "new formula" for OxiClean® that contains 40% more oxygen power per scoop.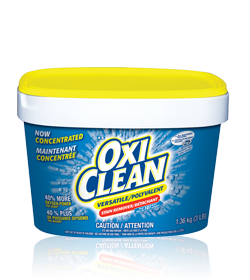 I really like using OxiClean® to boost my laundry, especially my whites loads. I find that it helps to brighten the whites and helps to get the clothing that much cleaner. I use a very natural type of laundry "soap" that is AMAZING, but there are times when the stains just won't come out. I find that after adding a small scoop of OxiClean® Versatile Stain Remover Powder to my laundry load the clothing comes out super clean.
The powder has a slight scent, which isn't overpowering at all. It is convenient to use and it comes in a very small tub (it is concentrated) that is easy to use.
We are in the process of Potty Training our son – with this comes a lot of messy accidents of the #2 variety. I find that soaking the underpants in a solution of OxiClean® Versatile Stain Remover Powder prior to laundering really attacks those "would be" stains!
Here is a list of benefits from using OxiClean® in your home: (taken right from website)
40% more oxygen power per scoop than our previous formula − the most stain fighting oxygen power of any OxiClean product
Now in a more durable, compact rectangular tub with a more durable scoop, making it easier to carry, use and store
Boosts detergent for better overall cleaning and whitening
Gets out stains that detergent alone can leave behind so they don't become dryer set
Helps prevent colours from fading due to chlorine in municipal water
For extra stubborn stains, pre-treating with or soaking in a concentrated solution of OxiClean® Versatile Stain Remover can provide amazing results
OxiClean® Versatile Stain Remover Powder has over 101 uses on multiple surfaces like carpet, upholstery, kitchen and bath surfaces, and even works outdoors on gutters, unfinished decks, and patio furniture
Colour-safe* and 100% chlorine-free!
---
Check out Multi-Testing Mommy's Giveaways
Toy Clearance Sale at chapters.indigo.ca. Shop now to prepare for the holidays!
---
The above product was provided free of cost to Multi-Testing Mommy by the manufacturer or a representing PR agency. Opinions expressed belong to Multi-Testing Mommy and are NOT influenced in any way. Some posts on Multi-Testing Mommy have been sponsored, see MTM's Disclosure for more details.