This post is written as part of a journey inspired by the Heart and Stroke Foundation's My Healthy Weight Action Plan, an online tool geared towards helping you live a healthier life. Feel free to get caught up on previous posts: Week 1, Week 2, Week 3, Week 4, Week 5, Week 6, Week 7, Week 8, Week 9, Week 10, Week 11, Week 12
---
Here are the stats to show my progress in my "Get Healthy Challenge":


| Start Weight: 190 pounds | Starting BMI: 28.9 |
| --- | --- |
| End of Week 1: 185 pounds | End of Week 1 BMI: 28.1 |
| End of Week 4: 179 pounds | End of Week 4 BMI: 27.2 |
| End of Week 8: 175 pounds | End of Week 8 BMI: 26.6 |
| End of Week 13: 174 pounds | End of Week 13 BMI: 26.5 |
My goal is to reach a normal BMI which would be 24.9 (the top of what is considered a "normal" BMI) at 164 pounds and from there, I plan to reassess.
---
This week, I would like to share with you my water tricks! Drinking 8 glasses of water a day is highly recommended in order to keep your body healthy, especially when you are trying to lose weight.
Drinking water helps to (not a full list):
suppress the appetite
increase fat burning
gives you healthier skin
helps with digestion
reduce water retention
Those are reasons enough to drink your full amount of recommended intake of water each day. I was reading at the Mayo Clinic that women should consider drinking 9 glasses of water each day (and men 13 glasses). I've also read that drinking water first thing in the morning can be beneficial to weight loss due to a kick start in metabolism.
Since January, I have been drinking water in the morning, but what I have recently learned is that I should consider changing this from warm/hot water to cold water as cold water might help to kick start your metabolism faster. I was drinking hot lemon water, but I wasn't enjoying it too much so I stopped. Just recently, my friend Kia from Today I Ate a Rainbow shared an article about the benefits of lemon water. So, I have started my days with lemon water again in hopes that it does have some benefit to my system.
Last week, I shared with you that I had discovered a new delicious water from my friend over at Just Us Girls called Sassy Water. I have been enjoying that quite a bit lately, it really does help me WANT to drink my full amount of water each day and then some. I have also been experimenting with my own versions of Sassy Water.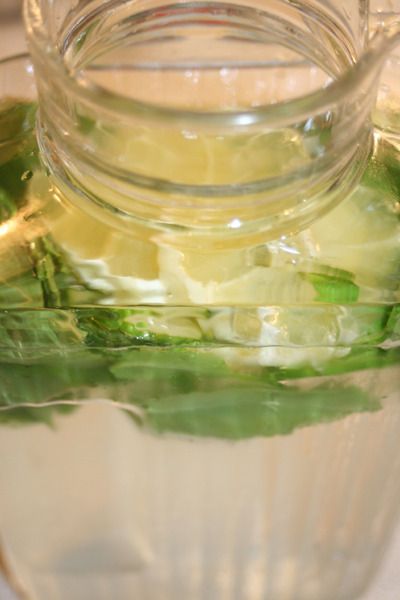 More ideas for Sassy Water:
lemon slices, lime sliced, mint leaves, cucumber slices
frozen cherries
strawberries pieces, lemon slices, mint leaves
---
Heart and Stroke "My Healthy Weight Action Plan" Update:
This week, I continued to spend some time surfing through the FREE online Heart and Stroke Foundation My Healthy Weight Action Plan Tool in the Resources section. I came across a wonderful PDF called My Weekly Planner. This is a printable that really encourages you to sit down each week and plan the week ahead of you. It discusses the importance of taking the time to plan your food, goals and exercise as well as to consider the factors that may make some of your goals challenging. One thing that I have learned while on this Getting Healthy Challenge with The Heart and Stroke Foundation is the importance of thinking. Getting healthy (and remaining healthy) is a mind set more than anything. You must focus on your goal, why you have set the goal and the importance of staying on track. Your brain is truly a powerful thing. If you put your mind to something and stay focussed, it is amazing what you can accomplish.
In the past, I used to allow myself to listen to my brain sending messages like "you really want that delicious food" or "one or two bites more won't hurt" etc. When I broke down once and listened to those messages, they repeated themselves over and over and over again. Now, I am trying to change the way that I think and the way that I talk to myself by repeating positive and encouraging messages to myself. As well, when I start craving a certain food or trying to convince myself out of exercise, I repeat messages about WHY I am doing this; that I am worth it, I want to be healthy for my children, I CAN do this, I AM strong enough.
The My Weekly Planner that is one of the resources within the My Healthy Weight Action Plan Tool lays out your week in meals, snacks, activity, goals and more. I find that it is a resource that helps you to think about that long term plan for your health and your way of living.
This Week's Smiles:
I drank my water every day.
This week, I feel more successful on the exercise front than I have since the start of this journey! YAY! I used Dance Central and Zumba on the XBox and I walked. I also did some core strengthening exercises.
---
This Week's Challenges:
I must figure out what I can change in my diet to subside my cravings. I seem to do fine in the morning and up until around 2pm at which point, I start to go stir crazy, craving food, carbs, sugars, you name it!
---
Here are the Blog Hops if you are interested in checking them out:
Some of my friends who are also trying to be healthier and are blogging about it are:
Ok, your turn. Tell me what one of your "staying healthy" challenges was this week!
---
Pin It
Check out Multi-Testing Mommy's Current Giveaways
---
Opinions expressed belong to Multi-Testing Mommy and are NOT influenced in any way. See MTM's Disclosure for more details.