My Mom shared this recipe with me when she saw it on City Line and boy am I ever glad that she did!
Breakfast "Grab and Go" Cookies
From Healthy Starts Here by Mairlyn Smith PHEc (Whitecap)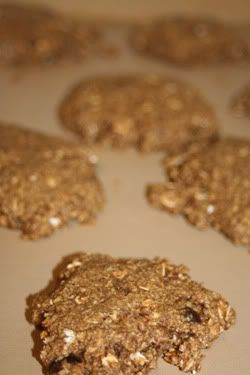 DRY INGREDIENTS:

1 1/2 cups (375 mL) oat bran
1 1/2 cups (375 mL) large flake oats
1 cup (250 mL) whole wheat flour
3/4 cup (175 mL) ground flaxseed
1/2 cup (125 mL) Scottish, Irish or steel-cut oats
2 tbsp (30 mL) wheat germ
2 tbsp (30 mL) cinnamon
1 tsp (5 mL) baking soda
1 cup (250 mL) dried cranberries or blueberries
1/4 cup (60 mL) at least 60% cocoa mass chocolate chips
1/2 cup (125 mL) walnuts, chopped coarsely
WET INGREDIENTS:

2 "Omega-3" eggs
1/4 cup (60 mL) canola oil
3/4 cup (175 mL) dark brown sugar, packed
One – 4.5 oz. (128 mL) jar baby food strained prunes
1 tbsp (15 mL) pure vanilla extract
DIRECTIONS:
Make sure the oven rack is in the middle of your oven.
Preheat oven to 375°F (190°C). Line a cookie sheet with parchment paper, two if you have them.
In a large bowl mix together the dry ingredients: oat bran, oat flakes, whole wheat flour, flaxseed, steel-cut oats, wheat germ, cinnamon, and baking soda using a rubber spatula or a large spoon.
Add dried cranberries or blueberries, chocolate chips, and walnuts and stir well.
In a medium bowl whisk together the wet ingredients: eggs, oil, brown sugar, baby food prunes and pure vanilla extract until well blended.
Add this to the dry ingredients and stir until it's really well combined. You can use a stand mixer if you like or a large spoon. I like to mix it with my hands, but the dough is sticky.
You want to make eighteen Grab and Goes, so eyeball an amount that's bigger than a golf ball and smaller than a tennis ball. Scoop out the batter and then press down so they are 3/4 -inch (2 cm) thick and about 3.5-inches (9 cm) wide. If you have a 1/4 cup (60 mL) ice cream scoop that has a release button, this is a perfect time to get it out of your junk drawer.
The batter is sticky; either lightly press down with the back of a metal tablespoon or dampen hands and then lightly press down. I use my hands.
Bake for 13-15 minutes. Remove cookies from oven and let sit on the cookie sheet for 5 minutes to set. Gently remove to a cooling rack. Let cool completely and then store in an airtight container for up to 2 weeks, or freeze up to 3 months.
Makes 18
Each Grab-and-Go contains:
256 Calories, 10.4 g Total Fat, 1.7 g Sat Fat, 0 g Trans Fat, 81 mg Sodium, 37.8 g Carbs, 5 g Fibre, 1.3 g Soluble Fibre, 14.7 g Sugar, 7 g Protein.
Diabetes Food Choice Values Per Serving
2 Carbohydrates, 2 Fats
Thanks to Mairlyn for coming up with such an amazing recipe! What I love on her site is how she Deconstructs the Recipe and discusses the reasons for including each ingredient and sharing their nutritional importance.