This raffle is open to everyone, everywhere!
Deanne Shoyer is a friend of my blog and the mother of 5 year-old twin boys who are both on the autism spectrum. Earlier this year she fundraised in order to purchase iPads for both her boys. As part of that process she discovered A4cwsn (Apps for Children with Special Needs), an organization founded by Gary James. The A4cwsn community on Facebook is now over 5,000 strong and working to get tech to as many special needs children as possible.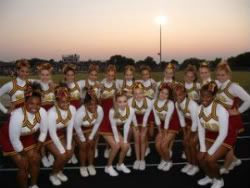 The Cheerleaders Behind the Fundraising!
On Friday, September 16th, 2011, the Westmont High School Cheer Team in Westmont, Illinois is hosting a fundraiser for A4cwsn as part of a Varsity football game. The cheerleaders are selling raffle tickets and have arranged an online raffle for an iPad 2 which is available for anyone to participate in. Each ticket costs US$20 and the drawing is on Sunday, September 18th, 2011. These girls are working really hard to make a difference in the lives of special needs children and would appreciate your support.
You can purchase a raffle ticket on the Event Facebook Page.
Ruby – an inspiration to others!
The little girl in the wheelchair is Ruby who was lucky enough to receive an iPad from A4cwsn and is an inspiration to her sister and the other girls on the cheer team. If you would like to know more about A4cwsn then you can watch this 97 second video. You can also visit their website at a4cwsn.com to watch videos of iPads being delivered and find out more about the organization.
---
This post is for charity and information purposes. No compensation was given.