They don't call me "Mommy the Messy Baker" for nothing!
I have a Cuisinart waffle maker and it has taken me four different recipes, a lot of messes and quite a long time to "master" making my own waffles.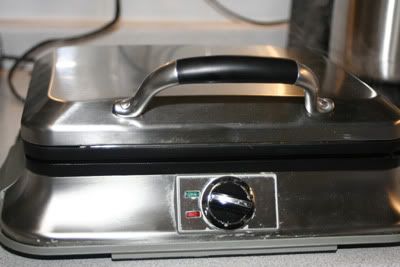 The first time I made waffles, the waffles grew and they grew and they grew. They kept growing, I honestly thought they were going to land on the floor! I thought that halving the amount of batter that went into the waffle iron would fix the problem.
It didn't.
I thought that changing the recipe would fix the problem.
It didn't.
This final recipe, from my amazing neighbour, is by far my favourite and it's healthier too! These waffles freeze well, if they make it that far.
Homemade Blueberry Oat Waffles
Ingredients
2/3 cup flour
1/2 cup oats
1 1/2 tsp baking powder
1/2 tsp salt
1 Tbsp brown sugar
2/3 cup milk
1 tsp vanilla
1 egg
1/4 cup vegetable oil
1/2 tsp lemon juice
3/4 cup blueberries
Directions

In a large bowl mix flour, oats, baking powder, salt and sugar.
In a medium bowl, mix milk, egg, oil, vanilla and lemon juice. Stir into dry ingredients.
Fold in blueberries.
Pour 1/4 cup of batter for each waffle. Cook 5 minutes.
Editor's Note:
I have made these without the salt and they have turned out just fine! I have also switched the Brown Sugar for Maple Syrup and they taste super yummy.
@GingerheadDad added that it is important to let your waffle iron heat up properly in order to allow for proper cooking to occur, this is so true! Also, set your oven beepers for cooking time and ignore your waffle timers!
---
This post is dedicated to my online friend, @GingerheadDad, who is a complete inspiration! We've had an ongoing "joke" about making waffles that started when he saw my tweets about the my frustrations of overflowing waffles and he told me that he had mastered the homemade waffle. Well, @GingerheadDad, I am happy to say that I have finally mastered the homemade waffle and have now pronounced myself the #wafflequeen! Check out @GingerheadDad's blog here. Maybe one day he'll write his blog post with a video of how to make a homemade waffle like he promised he would 😉