I love Halloween, but only the cute and fun aspects, not the horror and gore. I remember being terrified as a young child to visit certain houses at Halloween. To this day, I don't love staring at the scary decorations. In my adulthood, I have embraced what I term the "fun part" of Halloween for ME and that is the pumpkins, black cats and creative costumes. Our neighbour across the street always brings over fun and delicious Halloween baking for the kids to enjoy. It has become part of our Halloween tradition. Do you have any Halloween traditions that you and your family look forward to?
It's no secret that I also love to bake (Halloween baking is no exception) and I'm a sucker for fun baking items like sprinkles, cupcake liners and more! If you're like me, you will enjoy seeing all of the options out there to help jazz up your baking for Halloween.
Halloween Baking: Decorative Cups and Molds
There is such a huge variety of cute muffin papers and cups out there; from reusable silicone to more rustic brown paper and everything in between. When I make my Pumpkin Muffins, I always love to have options for the wrappers.

When my kids were younger, I would serve them snacks in Pumpkin Silicone Baking Molds. This makes a great preschool math activity too.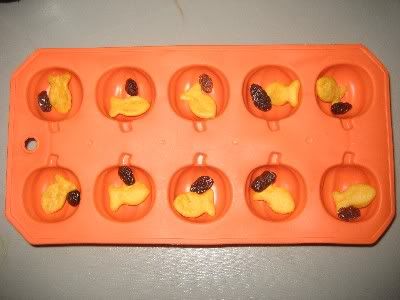 And to set the tone for your Halloween Baking fest, why not decorate your home while you're at it? What Halloween decorations do you pull out year after year? I have always wanted a set of Halloween lights, I'm excited to have found these ones:

Mom Tip: As you're busy getting your home all decked out with Halloween Decor and preparing for Halloween baking, be sure to find a special Halloween activity to keep the kids busy!

---
As always, full disclosure is extremely important to me. I am an Amazon Affiliate. Amazon is a convenient way to do your online shopping from the convenience of your own home. If FREE SHIPPING is important to you, be sure to check out Amazon Prime as an opportunity.