Have you heard of Glider Gloves?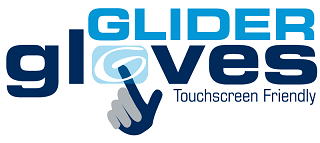 Glider Gloves are one of the first Canadian suppliers of conductive gloves for retail and wholesale distribution.
The gloves are made from Nylon, Acrylic, Spandex, and Copper based conductive yarns. These yarns are woven throughout the gloves in order to make the entire glove conductive, not just the finger tips. This is something that I love! No longer do I need to have quite as much precision when going on my phone in the cold!
The primary reason why I wanted to have a pair of "texting gloves" was for when I am waiting at the bus stop for my kids. On days where both children are at school, the bus stop can be a pretty lonely (and boring) place. So, I bring my phone along and continue to work! But, as the days get colder outside, my fingers started to freeze up. I started wearing my hunter mitts, but my fingers got frozen! Off I went, on a hunt for touch screen friendly gloves. I tried out dozens of pairs of gloves, in search for something that would work well for me. Unforunately, I couldn't find any gloves that would fit me properly in order to get good finger tip conductivity with my screen.
My husband went on a hunt online and found an amazing review of Glider Gloves and this was how I was introduced.
Glider gloves are stretchy, comfortable and most importantly, they work!!!
I am wearing a small and my husband wears an XL. I like the fact that the XL size has an extra stretchy elastic band around the wrist. While I do have short fingers, I don't have slim hands and I do have a small struggle getting the gloves on. However, once they are on, they are very comfortable and fit just right.
Cool features:
anti-slip grip (great for this clumsy Mom!)
full touch response meaning the magic isn't just the in the "fingertips"
soft on the inside
available in two styles (thick and thin)
Check out Glider Gloves in action here:
IT'S GIVEAWAY TIME!Prize: One pair of Glider Gloves (size and style subject to availability) Open to Canadian Residents Giveaway ends January 7, 2013 12:00 AM
a Rafflecopter giveaway
---
Pin It
Check out Multi-Testing Mommy's Current Giveaways
---
Multi-Testing Mommy was provided with promotional materials free of charge, by the manufacturer or a representing PR agency, in the hopes that it would be mentioned on this blog. Opinions expressed belong to Multi-Testing Mommy and are NOT influenced in any way. See MTM's Disclosure for more details.