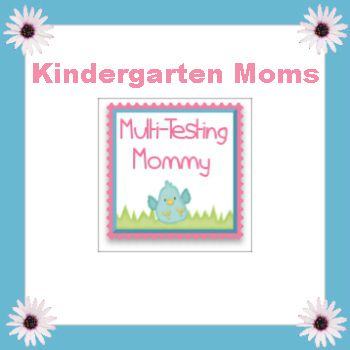 I took him to his school this morning for a 30 minute visit to his Kindergarten classroom.
He was nervous.
He was shy.

I was nervous.
I didn't want to let go.
He told me he was going to hide behind me and hide behind me is what he did.
I told him that it was his job to stay and have fun in the Kindergarten classroom and it was my job to go to the Library and to pick him up when the 30 minutes were finished.
I didn't hesitate.
I gave him a big hug goodbye.
I made sure he had his stuffed animal friend to hold.
I walked out the door.
I didn't look back.
I knew he was watching me.
BUT, I didn't look back.
I was brave.
I did what I had to do.
He was brave.
He did what he had to do!
After the 30 minutes, I came back and discovered that he had left from the table that he had chosen to sit at and was exploring the classroom.
His teacher told me that he did just fine within a minute of me leaving.
I was relieved.
He was happy.
September will be fine.
We can do this!
Do you have a child going off to Kindergarten in the fall?
Have you visited their school yet?
Share how you are preparing for Kindergarten with us!
---
I have also written a few other articles about Kindergarten parents that you may wish to read as this is a topic that I am very passionate about, having spent a number of years as a Kindergarten teacher and having two children of my own complete Kindergarten.
Kindergarten Parents Support Group
Getting Ready for Full Day Kindergarten
Preparing for Kindergarten – Part 1
Preparing for Kindergarten – Part 2
A Kindergarten Visit – Who Needs More Preparation, Mom or Child?
For all NEW Kindergarten Moms and Dads, This is For YOU!
Back to School – Mommy, I Don't Want to Go
Don't forget to get organized with LABELS from Oliver's Labels by labelling everything that you send to school!

I am an Oliver's Labels Agent.