This week, we are test driving a Ford Flex from Ford Canada.
Thanks to the cooler in the middle row of the Ford Flex, I was able to transport the beautiful flowers that my amazing son gave me this weekend. The vase and the flowers fit perfectly into the cooler and even though we stopped for an hour break in the middle of our 4 hour drive, the cooler stayed fully chilled and my flowers were happy!
Isn't my son sweet?! He actually arrived home with flowers for me, his sister and his grandmother. He's going to be a charmer, that one! Watch out, ladies!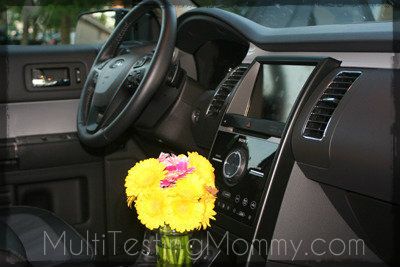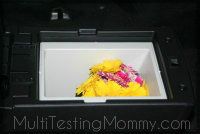 We also stopped for lunch at one point. The kids didn't want to open their mini yogurts so we were able to save them and put them into the cooler for the remainder of the trip. The funny part is that having a cooler IN the vehicle is something I must get used to because unfortunately, I left them in there over night and I didn't think the yogurt would still be good.
We have the Limited Edition Ford Flex and a lot of beautiful "perks" come with it! The number of extras are too long to list in one post, so I will share the short list of my favourites.
I love the Blind Spot Information System (BLIS). This system helps the driver know when a vehicle has entered their blind spot by turning on a small circular light in the top corner of their side view mirror as long as a vehicle is in their blind spot. I have found this feature particularly helpful, especially when driving a vehicle that isn't familiar.
Although I haven't used it yet, the Active Park Assist that detects an available parallel parking space and automatically steers the vehicle in the space, hands free is a pretty sweet feature. I am not very confident when parallel parking, so I can see how this feature could come to be very useful!
The Rear Sensing System and the Visual Park Aid are two features that I have used and really enjoy. The first time that the rear sensing system beeped, I nearly jumped out of my skin, but now that I know it is there and it will sound if a vehicle is approaching when I am pulling out of a parking spot, I find it to be very helpful. When you first start backing out of a parking spot, you creep slowly until you can see. This sensing system is your eyes until you have full view of approaching vehicles.
The Visual Park Aid is very helpful also as the Flex is a longer vehicle and therefore sensing your space in reverse is slightly challenging. Having a large video screen where you can view exactly what is behind you is very helpful when driving in reverse. I also like the coloured lines on the screen that help guide you. I certainly do not fully rely on this system, but it is very nice to have as an additional support.
As I mentioned above, there are too many beautiful features to mention in one post, so I will leave you with one more. I am enjoying the automated rear door. Those rear doors can be awkward and heavy. It is nice to only push a button to get the hatch to open and close. My son discovered this button on the second day of having this vehicle. Although it is very nice that there is a warning beep when the door is closing, it can be rather alarming when the door starts to automatically open, I have never seen my 3 year old jump so fast out of the way. From that moment on, a rule was put in place that he is NOT allowed to touch any buttons on the vehicle. I think he believes the buttons were put on there just to temp him, but he has done really well!
This certainly has been an adventure for me and our family! I will be sharing more of our times with the Ford Flex soon. Stay tuned.
To read more of my thoughts on the Ford Flex go here:
My Journey with Ford Canada
The Excitement
---
Pin It
Check out Multi-Testing Mommy's Current Giveaways
Find contests for your COUNTRY
---
Multi-Testing Mommy was provided with promotional materials free of charge, by the manufacturer or a representing PR agency, in the hopes that it would be mentioned on this blog. Opinions expressed belong to Multi-Testing Mommy and are NOT influenced in any way. See MTM's Disclosure for more details.