Luna Kettlebottom and the Magic Cauldron Society – Vlad and the Beanstalk by Brandissimo! Inc. is an APP that is presently FREE for a limited time and is now available in CANADA. It is compatible with iPad and requires iOS 4.0 or later. The regular price is $2.99.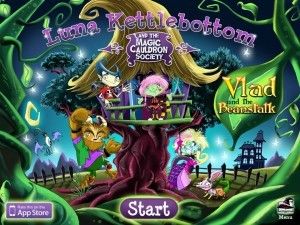 About the APP
This APP is an interactive story book (on a classic children's story) that actively includes the reader in the story. It is rated for children 4-8 years of age.
You can follow Brandissimo on Twitter and check out the Luna Kettlebottom and the Magic Cauldron Society Website and on Twitter, Facebook and Google +.
MTM Review
Although this APP is suggested for 4-8 year olds, I would suggest that the slight "dark" side of this story might be too scary for the sensitive child. As well, a four year old may not have the attention span to complete the whole story.
This interactive storybook is very creatively done. Each page has something for the reader to engage in to make them a part of the story. I really love how the sentences are highlighted as they are read aloud, although for emergent and early readers, it would be AWESOME if they would highlight each word individually.
This story is a take on "Jack and the Beanstalk", a familiar children's story. Part of the language arts curriculum in Kindergarten and Grade 1 (and beyond) is taking a familiar story and changing parts of it. This story certainly does put a spin on the traditional story, allowing a child's imagination to jump right in.
The story is read by a child's exciting voice. There is a lot of expression used which keeps the story interesting and exciting! We found ourselves anticipating what would come on the next page.
The sound effects in this story are so much fun! They really make this book that much more fun.
The colours used in the graphics are all about kids, including characters with pink and blue hair and funky coloured creatures.
There are just enough interactive opportunities in this story to make it "fun" for children and I love how the story wraps up in the end. Even the "page turning" experience is similar to that of reading a "real" book which I like. The more authentic the reading experience for a child, in my opinion, the better.
We are excited to see Luna Red Riding Hood come soon!
---
Pin It
Check out Multi-Testing Mommy's Current Giveaways
Find contests for your COUNTRY
---
Opinions expressed belong to Multi-Testing Mommy and are NOT influenced in any way. See MTM's Disclosure for more details.