We love Children's Books in our house! New books enter our house almost weekly on top of the library books and school books. We have books in the kids' bedrooms, books in the kitchen and many, many books in the basement!
We are always happy and eager to read new books together. It is a time to bond, a time to snuggle and a time have fun with reading!
Recently Scholastic sent us a few books for us to read. The kids and I snuggled up on the couch together and read the books.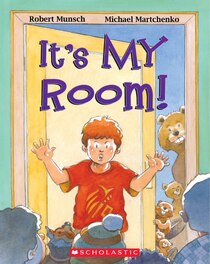 Robert Munsch is a well known children's author. Children love him because of his humour. Have you ever heard Robert Munsch read aloud? His voice is SO animated and capturing! It's My Room, like all of Munsch's books, is written in a way that allows for wonderful expression when reading it aloud. The kids giggled throughout this story! I'm sure they were laughing partly at me and my silliness (I LOVE to read kids' books out loud!) and partly at the text.
It's My Room: "Matthew is thrilled to find out that he is getting his VERY OWN bedroom and won't have to share with anyone. But then all Mom's relatives come to stay. Getting his room back isn't going to be easy!" Source: Scholastic.ca
If you go to the Scholastic Website, you can even see an excerpt from inside the book!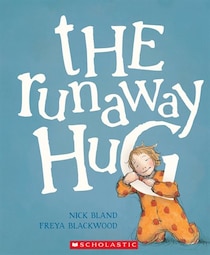 The Runaway Hug
:
"Lucy shares the hug with everyone in her family. Along the way it becomes softer, sleepier, bigger, even peanut-buttery. But when the hug runs away, Lucy discovers that it's not so easy to get it back."
Source: Scholastic.ca
We love to hug and snuggle in our house so this book was a real hit! Any book about hugs is a great story for Valentine's Day! I've even been known to give books for Valentine's Day gifts instead of candy or chocolate.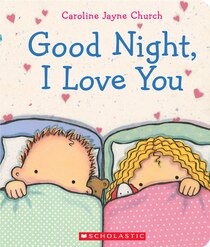 Goodnight, I Love You
:
"Caroline Jayne Church and her lovable, huggable toddlers are back! Her padded board books: I Love You Through and Through and How Do I Love You? are well known and well loved.
Now Church brings us Goodnight, I Love You – the quintessential get-your-children-ready-for-bedtime book. With the charming illustrations that we have come to know and love, and wonderful rhyming text, this book will no doubt be a success through and through." Source: Scholastic.ca
This is a really sweet book that will help your children with their bedtime routine. AND what great bedtime routine is without a book?! This book is a fun book to snuggle in bed and read. In my opinion this book is best suited for babies and young children. The small amount of text on each page helps to keep a young child's attention span.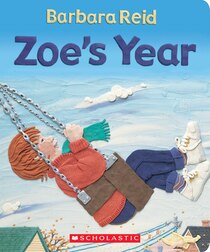 Zoe's Year:
"Where is Zoe going? Join her as she explores her neighbourhood in every season — splashing through a rainy springtime walk, enjoying a sunny summer picnic, playing on a windy fall trip to the park, and sledding on a snowy winter afternoon."
Source: Scholastic.ca
I absolutely adore Barbara Reid! She is one of my favourite Children's authors. Although her stories are always great, it is her creative and out of this world plasticine illustrations that have a 3D effect that make her books so captivating. Zoe's Year has very simple text. This book suits babies and very young children best.
---
Pin It
Check out Multi-Testing Mommy's Giveaways
---
Toy Clearance Sale at chapters.indigo.ca!
---
Multi-Testing Mommy was provided with promotional materials free of charge, by the manufacturer or a representing PR agency, in the hopes that it would be mentioned on this blog. Opinions expressed belong to Multi-Testing Mommy and are NOT influenced in any way. See MTM's Disclosure for more details.