The original recipe for Healthy Baked Oatmeal can be found on Snack Girl's Website. I love this site! She has so many amazing recipes as well as great tips!
I've changed up the recipe a bit…here is my version:


Baked Oatmeal
Multi-Testing Mommy gives permission for all photos in this post to be pinned on Pinterest!
Dry Ingredients: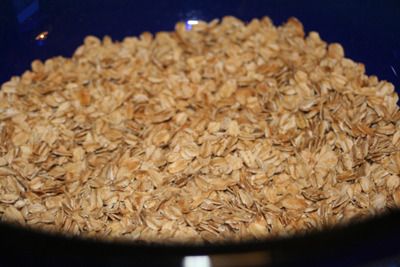 2 cups large flake oats
1/2 tsp baking powder
1/4 tsp baking soda
3/4 to 1 tsp cinnamon
Wet ingredients:

3 cups fruit

(you can use frozen berries, canned fruit or chopped fresh fruit – I love cherries, blueberries and strawberries in mine)

1 cup almond milk

(I use unsweetened, vanilla flavoured – you can use plain milk here)

1 cup plain greek style yogurt
(added protein, but you can use plain)
2 eggs
1 tsp vanilla
2 Tbsp maple syrup

(this dish almost needs no added sweetness because of the fruit!)
Directions:
Preheat oven to 350F.
Grease an 8×8 baking dish.
Mix dry ingredients and then mix in wet ingredients.
Spoon into pan and cover with foil.
Bake for 20 minutes, remove foil, and bake for another 25 minutes until golden brown.
Makes 8 servings.
You can eat this baked oatmeal heated up or cold. It will keep in the fridge for up to 1 week.
This post has been shared during
Foodie February
.
---
Pin It
Check out Multi-Testing Mommy's Giveaways
---
Toy Clearance Sale at chapters.indigo.ca!
---