Today's "Tackle" is Paper. There seems to be paper everywhere. There's newspapers, mail, school work, home drawings, receipts and more. I constantly struggle with paper organization.
How long do you keep your paperwork like visa bills, insurance papers, tax folders etc.? Seriously, please leave me a comment and let me know. I want to know I'm not the only freak…or if I am! I keep the last seven years of tax purposes and I keep a few years of paperwork bills (although most of our bills are electronic now, thank goodness!).
My hubby thinks I'm nuts for my paperwork files!
I would like to share with you my filing system today.
I have files upstairs (in my "office"–my kitchen) and files downstairs in the basement.
My files upstairs are for short term filing purposes.
My files in the basement are for long term storing purposes.
I have two accordion style files on my desk. One is for recipes. One is for paperwork.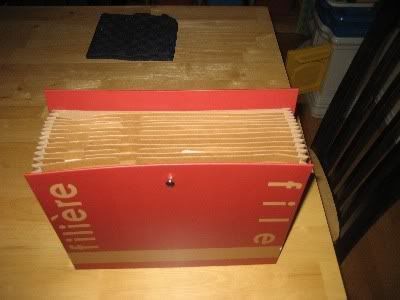 In my recipe folder, I keep file folders in categories. Each category has two folders, one for recipes that I like in that category and one folder for recipes to try. I cut them out of magazines and print them off the web and file under the appropriate category (breakfast, vegetables, desserts, snacks, pork, appetizers, soups and sauces, pasta and rice, chicken and turkey, beef, holidays etc.). Once I try them, they either get discarded (if the recipe is an obvious flop) or it goes into the "keep" folder.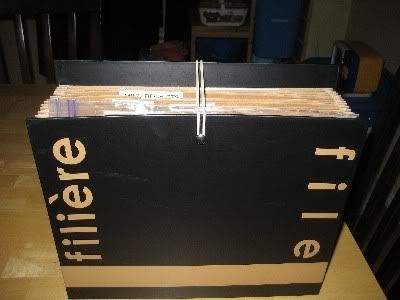 The other file is just that–for other stuff. My sections in that one are items to be filed downstairs, current items (various schedules), health, manuals (ones that we refer to often), important receipts etc.. I also keep file folders in the back for the papers that we receive most often in the mail (e.g. bills, insurance receipts, RRSP/RESP updates etc.) so that I don't have to file them in the basement every time we get one. At the end of the year, I take those folders and add them to our main storing system in the basement and I take out on year's worth to discard (shred).
TIP:I have learned a technique that I am trying to use–only touch a piece of paper once.
Now, I take you down into the depths of our basement to where I keep our long term filing box:


This box can store hanging file folders AND it is somewhat portable.
The greatest part of my system is definitely NOT how it looks. It's how functionable it is!
Here is how I have organized it…
I have green hanging folders for each category (e.g. Visa, Insurance, Medical, Hydro, Phone Bills, etc. etc.). Within each green hanging folder are plain files that are labeled by year. I have 2004-2011 (e.g. 7 plain files within each green hanging folder). Each year, I take out the oldest plain file out of each category and send it for shredding.
On the topic of shredding. What do you shred? How careful are you with paper that has your full name and mailing address? I'd love to know.
This system took quite a while to organize, but man does it ever feel good now that it is done! I even used my label maker to do it–it's sweet 🙂 Amazing how excited I can get over filing bills, etc. I'm SO pathetic!
---
---
Check out Multi-Testing Mommy's Giveaways
---
Toy Clearance Sale at chapters.indigo.ca!
---