This post has been written as part of #CanadianCookies Blog Event. To find out more about the event, please click on the button below.
An old blogging friend of mine, Terri, sent me a bunch of her Christmas baking recipes a few years ago and I still haven't gotten around to making all of them.
But, today, my friends, I made one of them and boy I wish I had made this one the year she sent me the recipes! This will now become a family favourite in our house just like she wrote on her recipe (it has been a family fav in her house since she was a little girl as well!).
It was SO easy to make, it is crazy fast and it is super duper yummy!
No Bake Chocolate Oatmeal Cookies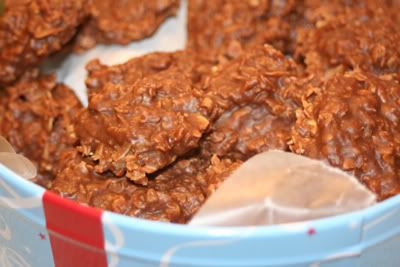 Combine the following ingredients in a Saucepan:
2 cups sugar
1/2 cup milk
1/4 cup butter
1/3 cup cocoa
Boil for 1 minutes. Remove from heat.
Mix in:
2 cups quick cooking rolled oats
1/2 cup flaked or shredded coconut
1/2 cup peanut butter
1 tsp vanilla
Drop onto wax paper and cool in refrigerator.
Oh and try not to eat them all in one sitting 🙂
---
Check out Multi-Testing Mommy's Giveaways
Toy Clearance Sale at chapters.indigo.ca. Shop now to prepare for the holidays!
---