Tonight I took my two young kids out for dinner by myself. I was feeling brave because typically my 3 year old doesn't do too well in restaurants!
We chose Boston Pizza as our destination. As I started driving out of our neighbourhood, I realized that I was heading in the opposite direction of the newest Boston Pizza that is close to our house. I took a slight detour and we were on route to a fairly new Boston Pizza location.

When we arrived, the restaurant was completely empty.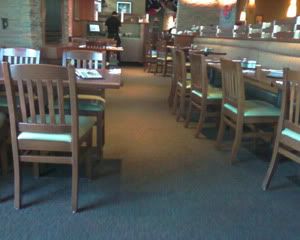 We were greeted by some very eager and friendly staff and we were seated in a booth. Both kids started fighting over who got to sit beside me so we settled on me sitting in the middle of them on the one side of the booth. We were slightly cramped, but it felt so great having my two favourite little people on either side me.
I ordered what must be a special feature because when I came home and looked the name of the dish up online, it wasn't available on their online menu. It was a penne pasta taco style. It arrived piping hot with garlic toast strips on the side. It was delicious, however I was slightly disappointed in the amount of meat in the dish. My newly somewhat "adventurous" eater of a 6 year old even tried my meal and quite enjoyed it – she typically doesn't enjoy saucy dishes.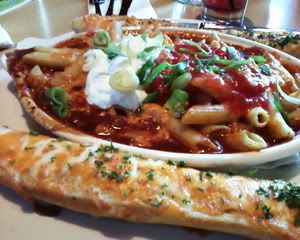 As a side note, I haven't been able to locate my camera since last weekend and so I had to use my cell to take photos. I am somewhat impressed at the quality of these candid shots from my little old android phone.
My children both ordered burgers and fries. My son is getting pickier by the second and this is what he wanted on his plate:

I dumped all of the fries on my daughter's plate:

She decided to get creative at the end of the meal:

Do you see it? "M" for Mommy with ketchup to stick it together. We had fun!
Before the meal came, my daughter decided she had to use the washroom, something I asked her to do before we left the house. Apparently she was too excited about going out for dinner because she forgot to go. While I was waiting for her to go, I noticed this cool mirror.

Why is it cool? It was some sort of digital mirror that had moving ads on it in the background while you looked at yourself, but in other angles (as you can see), it looked like a normal mirror. Wild. However, me admiring myself got interrupted by my daughter coming out to ask me if the toilets were automatic flushers, which they were. So, we all went into the larger washroom and thankfully there was a toilet with a lid. Why is this important? I learned something. Often the larger stalls have toilets with lids. These lids cover the infra red light that is used as the sensor for the automatic flushers. Note to self: use the large stall when with young children.
My son was VERY disturbed by the joker on this sign:
He wanted to know why there was a scary man on the sign? Hmmm…maybe to discourage people from actually wanting the deals on the sign?!
Oh and thank goodness for children's activity books! My son was kept occupied and happy throughout the entire meal (with one "time out" on Mommy's lap because he was tossing my purse and coat onto the floor) thanks to the activity book that Boston Pizza provided.

Do you see the cloth and container in the picture? I have learned to never go to a restaurant with out one! There are always spills or messy situations that need a cloth!
When my meal was finished I ordered a coffee as a wee pick me up as I knew I was going to have a long night ahead of me. I asked the server if she had any other sweeteners available other than what was on the table.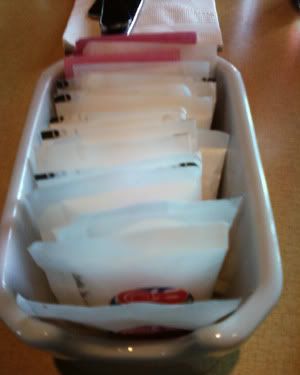 Her response: "No, unfortunately not".
By the time we left, that empty restaurant had turned into a mad house. I asked my server if they had comment cards because I really wanted to state my desire for there to be more variety available for sweeteners, specifically to have Equal Sweeteners. She answered that I could go online to comment and off she rushed.
Here is my comment on the online Comment Form:

Overall, the three of us had a wonderful dinner out. It was a treat for the kids, because what kid doesn't love to go out to a restaurant (well….soon I'm afraid that will be my son if he gets any pickier) and for me because I didn't have to cook dinner.
You can learn more information about Equal Sweetener on the Equal Website, by following @EqualCanada on Twitter or Liking the Equal Canada Facebook Page.
---
Check out Multi-Testing Mommy's Giveaways
Toy Clearance Sale at chapters.indigo.ca. Shop now to prepare for the holidays!
---
This shop has been compensated as part of a social shopper insights study for Collective Bias. All opinions are my own. #CBias