As the days rapidly get colder and gloomier (or at least it seems that way), it becomes more and more important that we all get a good dose of vitamin D! Ddrops has created a unique form of vitamin D called the Ddrops Booster. It is meant to be taken along with receiving some of your vitamin D from other sources (e.g. multi vitamins, food or the sun).
Last winter, I started to give my children Ddrops in hopes that it would give their immune system a little "boost" and keep them healthier. Did we still get sick? Yes! Do I know for sure that it was the Vitamin Ddrops that had them slightly less sick than in years before? No. But, I will tell you that we are definitely going to do it again this year!
Vitamin D drops are super easy to administer and they have no taste. I put a drop on a spoon and let my kids lick the spoon, but you could easily add a drop to food or a drink. I tend to tell my children what I am giving them and why so that they can become educated about how we are taking care of our bodies.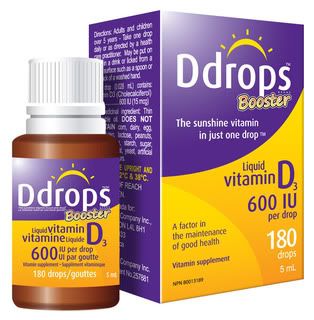 Here is some interesting information taken from the Ddrops website:
Several medical associations recommend that adults take a daily intake of 1000 IU of vitamin D"
Ddrops are wheat-free, gluten-free, soya-free, sugar-free and peanut-free. It is tasteless, odourless with no artificial flavours, no colouring and requires no preservative.
Vitamin D3 is the form naturally produced in human skin exposed to sunlight. Vitamin D3 in vitamin supplements starts as lanolin (the oil obtained from wool of sheep and lambs). The lanolin is exposed to ultraviolet light to activate the fat that then turns into vitamin D3. The vitamin D3 is purified and used for vitamin supplement products or to fortify food and milk. Although Ddrops™ brand vitamin D₃ is an animal sourced product, the animal is not harmed during this process. Ddrops™ are suitable for lacto-ovo vegetarians.
Bonus for Multi-Testing Mommy Readers: Anybody who drops by Baby D Drops FaceBook page and says hello and mentions that you came from Multi-Testing Mommy, will receive a free Dora / Diego growth chart.
Would you like to win a bottle of Ddrops Booster?

---
Check out Multi-Testing Mommy's Giveaways
Toy Clearance Sale at chapters.indigo.ca. Shop now to prepare for the holidays!
---
The above product was provided free of cost to Multi-Testing Mommy by the manufacturer or a representing PR agency. Opinions expressed belong to Multi-Testing Mommy and are NOT influenced in any way. Some posts on Multi-Testing Mommy have been sponsored, see MTM's Disclosure for more details. The statements made in this post are either taken directly from http://www.ddrops.ca or are Multi-Testing Mommy's opinion. Please consult your physician before choosing to purchase and take Vitamin D. Multi-Testing Mommy is not held reliable for the choices made to use these products.