Here is a picture of my son helping to prepare a pumpkin for making pumpkin puree: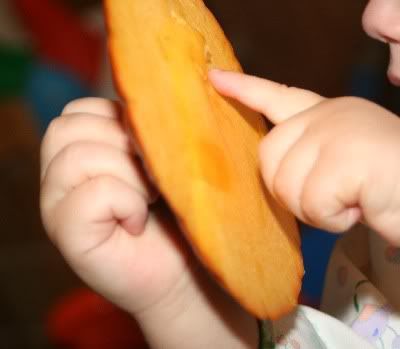 This Pumpkin Cake is honestly the most moist cake I think I've ever had! And, if it doesn't get eaten up first, it stays moist for quite a good length of time too. It also freezes quite well. Treats in a school lunch perhaps?
Pumpkin Cake
Ingredients
2 cups freshly pureed pumpkin (can use canned if you prefer)
1.5 cups sugar
1 cup vegetable oil
4 eggs, lightly beaten
2 cups flour
2 tsp baking soda
2 tsp cinnamon
Directions
Beat pumpkin, sugar and oil. Add eggs. Mix well.
In another bowl, combine dry ingredients and stir to mix. Add to pumpkin mixture and beat well.
Pour batter into greased 15 x 10 x 1 inch jelly roll pan (or you can make cupcakes).
Bake at 350 degrees for 25-30 minutes or until toothpick comes out clean.
Cool on a wire rack (in the pan); cover with a towel after about 15 minutes of cooling.
This recipe has been adapted from here.