Recently our family has been introduced to the Live Clean Baby Soothing Relief Collection.
What stood out to me at first glance of this product was that they are made with non-irritating, gentle, natural and plant based ingredients. No Phthalates, Parabens or Cleansing and Foaming agents (like SLS or Sodium Lauryl/Laureth Sulfate and DEA). Right away, I feel much better using these products on my kids' skin.
The Live Clean Baby Soothing Relief Collection includes the following products:
Live Clean Soothing Relief Baby Wash
tear free wash specially formulated with natural colloidal oatmeal and chamomile that gently cleanses and soothes
My thoughts:
This is now my preferred brand of baby wash for my kids. I love its light scent and will continue to use it on their bodies and hair until they get older. I feel good that the product that I use to clean them on a daily basis is so natural and free of harmful chemicals. I also truly believe that this product helps my childrens' sensitive skin not become irritated!
Live Clean Soothing Relief Non-Petroleum Jelly
blend of sustainable castor seed oil, beeswax and vitamin E providing a moisture barrier to protect baby's delicate skin
My thoughts:
Although I don't have babies in the house anymore, there is still occasionally a use for this type of product. I really LOVE how Live Clean has formulated a Non-Petroleum Jelly!
Live Clean Soothing Relief Baby Lotion
fast absorbing, non-greasy, focuses on soothing irritated, uncomfortable, extra-dry skin and leaves baby's skin soft and smooth
My thoughts:
Ok, I'll let my secret out – I like this lotion for myself! We keep it in our main upstairs bathroom to put on immediately after the shower. It has a nice light scent, it isn't greasy and I really love it for daily regular use. This lotion isn't strong enough to help problem skin (at least not from what I have found), but is absolutely perfect for daily use.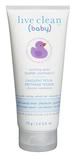 Live Clean Soothing Relief Diaper Ointment
soothing tender skin and forming a protective barrier against wetness with naturally formulated zinc oxide, beeswas, castor seed oil, jojoba seed oil and vitamin E
My thoughts:
Another wonderful natural product to use on baby's skin. We don't have the need for diaper ointment in our house anymore, but I would definitely give this a try if I did!
Live Clean products are available across Canada at Loblaws and Wal-mart.
Feel free to check out Live Clean on Facebook.
Would you like to win your own Live Clean Baby Soothing Relief Collection to try out on your family?
---
Check out Multi-Testing Mommy's Giveaways
Toy Clearance Sale at chapters.indigo.ca. Shop now to prepare for the holidays!
---
The above product was provided free of cost to Multi-Testing Mommy by the manufacturer or a representing PR agency. Opinions expressed belong to Multi-Testing Mommy and are NOT influenced in any way. Some posts on Multi-Testing Mommy have been sponsored, see MTM's Disclosure for more details.