I've had the wonderful opportunity to have learned about GivingGifts.ca! The owner is a fantastic woman who is a very caring and conscientious person. This is seen in the Giving Gifts'commitment to carrying products from companies that respect and sustain the environment and promote and practice fair and open trade ethics and principles. 10% of profits from Giving Gifts goes directly to Charity.
They offer a large variety of fun, unique and practical items that can be purchased for yourself or that can be given as gifts! Categories to choose from include: Playing and Crafting, Reading and Writing, Eating and Drinking, Carrying and Shopping, Pampering and Gifting and Sleeping and Decorating.
The website itself is so well organized and I love how underneath each product, it is clearly stated who the product "gives" to, whether it be the environment, the workers that made it or a charity that the company supports.
Giving Gifts offers $5 flat rate shipping across Canada and FREE Vancouver Pick up and Delivery.
You can follow them on Twitter or become a Fan on Facebook.
I received two products for review from GivingGifts.ca including Little Jots and a Snack Happened Bag.
Little Jots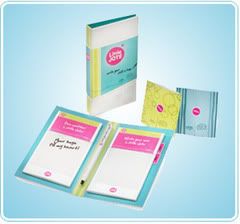 $14.95
These are the sweetest little note package for parents including everything you need to write your child a special note to remind them how much you care about them or how special they are. The kit includes:
A hard cover purse-size book
20 colourful and funky pre-written notes
20 colourful and funky sheets to write your own note
Kiss and hug stickers to seal them with
A pen
Ideas for How Little Jots Can Be Used:
In your child's backpack or lunch bag
On a pillow
On their breakfast/dinner plate
Into an overnight bag
In a book
In a pocket
As a former Kindergarten teacher, I truly appreciate how special little notes are to a child. Not only do they provide that fun element of surprise, but they also give them little reminders of love when they receive them AND they promote literacy!
I remember when my daughter went off to Junior Kindergarten and I would send her a little note in her snack or lunch bag. She would come home so excited to tell me what she found in her bag and that her Snack Helper read it to her. Within months, she was able to read those notes independently and as time went on, I was able to write more and more words in those notes.
Little Jots make those notes that much more fun AND convenient for me. I keep them tucked in a spot in the kitchen that is easy for me to access while making lunches. I don't even have to go locate a pen when I'm ready to write a little note because the kit comes with a pen! I also love the fact that the kit comes with pre-written notes (that have been specially developed to ensure your child feels connected, special, valued and loved) for when you're in a real rush as well as blank ones that you write your own.
I had to copy this directly from the website, because I fully agree with it! My Mom wrote me little notes when I was little (actually she still does) and I still remember the rush of excitement I would feel when I would find them as well as how special I felt!
"With Little Jots, you'll put a smile on your child's face and create memories that will last a lifetime."
---
Snack Happened Bag by Itzy Ritzy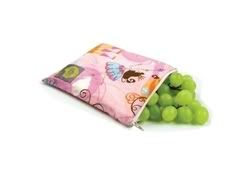 7 inches x 7 inches
$12.95
Before I became eco-conscious (and trust me, I'm not perfect, but I try when I can), you could have called me the ziplock queen! I used bags to organize and store everything! I won't waste my time feeling guilty for all of the bags that I put into the landfill and rather, I will move forward and share a new product that I have learned about called "Snack Happened Bag" by Itzy Ritzy.
These bags can be used for food, first aid kits, cell phones, craft materials, toiletries, iPods, cameras and more! They are closed with a zipper and are easily manipulated by wee hands.
Snack Happened Bags are clearly made with quality in mind and they wash up so nicely. I actually get a tiny bit excited when I pack a snack for my daughter in her bag because the bag is just so much fun!
These reusable and machine washable snack bags are FDA approved and BPA Free with a lead free zipper top. The exterior is made from 100% cotton fabric and the interior is PVC-Free waterproof lining. The bags are also made in the USA and come in a variety of patterns.
---
Check out Multi-Testing Mommy's Giveaways
Toy Clearance Sale at chapters.indigo.ca. Shop now to prepare for the holidays!
---
The above products were provided free of cost to Multi-Testing Mommy by the manufacturer or a representing PR agency. Opinions expressed belong to Multi-Testing Mommy and are NOT influenced in any way. Some posts on Multi-Testing Mommy have been sponsored, see MTM's Disclosure for more details.