If you don't have time to be creative, but you want to serve a fun and festive snack to your little ones, here's an idea….
Buy festive icecube trays from your local Dollar Store or this year, I've seen them at the Canadian Superstore (Loblaws).
Young children just LOVE to get their snack tray filled up with fun little food bits and they feel like a big kid when they carry it by themselves to the table. The trays are so much fun to fill and they portion out the smallest snacks so their tummies don't get too full.
You can also bring in a small fun math lesson while working on 1:1 counting skills without them even knowing they're doing it!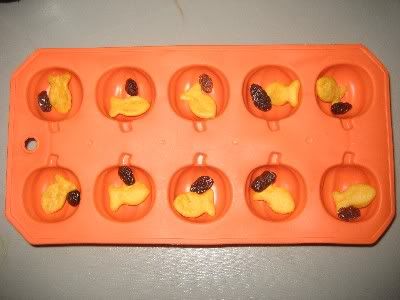 oops, my daughter might have gotten into her snack before I had a chance to snap the photo 😉
Such a simple thing makes snack time so special and so much fun!
You may even find that your children are willing to try something "new" for snack in these lovely, little trays. Perhaps you could build it into Eating a Rainbow?! If you click on that post, you will even find a giveaway that is open until November 10th!


---
Check out Multi-Testing Mommy's Giveaways
Toy Clearance Sale at chapters.indigo.ca. Shop now to prepare for the holidays!
---