In Ontario, we have a telephone help system called TeleHealth in place for when you have health/medical related problems and you either:
a) Don't want to go to your doctor.
b) Your doctor is unavailable and you don't want to go or aren't sure if you should go to the hospital.
c) You want a second opinion.
I have called TeleHealth a few times when I am unsure about one of my childrens' fevers and one thing that I have learned from them is how to properly dose fever reducing medication according to weight. The problem is that children grow (like weeds) and so I never knew when the medicine dose they gave me that was more accurate for my child than the recommended dose on the medicine bottle had increased.
The Solution to Dosing Medicine Accurately: ACCUDIAL
Accudial is a brand of medicine that has a unique label on the bottle that allows you to determine the most accurate dose of medicine for your child according to their weight, not their age. The label on Accudial bottles turns to allow you to customize exactly how much medicine to does out for your child according to their weight.
We received a bottle of the Night Time Cold and Cough to sample. Now that my daughter is six, it is considered safe to give her cough medicine when she is sick, something that I am very happy about.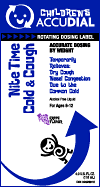 Here are my thoughts…
Pros:
Alcohol free liquid
Bottle also comes with a medicine spoon for easy measuring and dispensing (see cons)
More accurate medicine dosing, therefore child will feel the effect of the medicine more accurately
The Dose is very easy to read on the sliding label on the bottle – I love the design!
Cons:
There is colour dye in the medicine. I typically select dye free products. Hopefully over time, Accudial will come out with dye free products. I find the kids care more what the products taste like rather than what they look like.
I found the enclosed measuring spoon difficult to use if the dose involves 1/2 ml in the measurement!
To see Accudial in action, please go to the Accudial Website to watch a short demo video.
OR
If you're a fan of the show The Doctors and you enjoy watching Jake from the Bacehlor, you can always check out their take on Accudial!
Would you like to sample Accudial for yourself to see how easy it is to use their system?

---
The above product was provided free of cost to Multi-Testing Mommy by the manufacturer or a representing PR agency. Opinions expressed belong to Multi-Testing Mommy and are NOT influenced in any way.