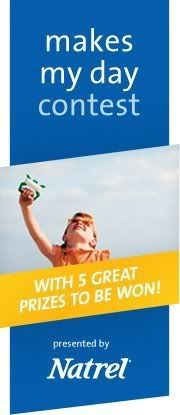 Canadian milk brand Natrel is currently running an exciting Facebook Contest giving away prizes that will surely Make your Day.
Participating is easy: simply log on to Facebook, tell them who has made your day, and you'll be automatically entered into the contest.
Prizes include a shopping spree, a day at the spa for two, sessions with a life coach and a nutritionist, and cooking lessons for two. What's more, you can participate once a day, everyday increasing your chances of winning one of these great prizes. From an inspirational story, to a funny video or useful health tip, the Natrel Facebook page is here to make you smile, laugh, reflect and even dream. Check in throughout the week to find content that they hope will make your day.