This post is part of #FDF (Finally Diaper Free), an event all about Potty Training co-hosted by The Knit Wit.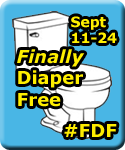 ---
Wow! Where do I begin? Let me start at the very beginning…..
What is #FDF?
During the summer, hubby and I were talking about our then 2 year old son about potty training and we both agreed that he was showing signs of readiness. We decided that once our daughter started school, when I had all of my time to devote to potty training, I would take the leap and help him become
Diaper Free
.
I started talking to my friend, The Knit Wit about this decision and she invited me to join her Potty Training Event in September. From there, #FDF (Finally Diaper Free) was born.
From September 11th – September 24th 2011 both The Knit Wit and I will be hosting #FDF where we will be posting our Potty Training Experiences, Potty Training Tips, Reviews of Potty Training Products and Giveaways.
Potty Training My First Child
As @jwarrender mentioned in a future guest post, children are like snowflakes! I have learned that to be even more true with the difference between my first and second child and how they potty trained (and are still in the process of potty training).
My daughter didn't potty train. She just one day decided she was ready and with a few minor "bumps", she never looked back. She saw some new underwear that I purchased for her when she was ready, she asked to wear them and gave up her diapers both night and day. She had some trouble with going #2, but after 2 weeks, she was fully "trained" all day long.
Yes, I spent countless hours sitting in the bathroom while she used the facilities, but she did it with ease.
Potty Training My Second Child
Potty training my son has been a completely different story. He is a rather stubborn little guy and although he has been showing the signs of readiness for months, he has not initiated the jump from diapers to underpants like my daughter did. Because of this, we decided to give him that little push to encourage him. It is an ongoing process for us that started on Monday August 29th and is still going. We have had to resort to things that we never even had to consider with my first. That's ok because he is his own person and he will take this challenge in his own way.
Over the next couple of weeks, both Shari and I will be posting our potty training stories, tips and more. We invite you to join in, share your experiences and tips too.
---
For more stories, tips, reviews and giveaways regarding Finally Diaper Free Event, please go to the Finally Diaper Free Main Page.
---
---