My kids and I recently spent an entire week up at the cottage. We are so lucky to have access to a few beautiful beaches that are not very far away!
Kids LOVE to play in sand, whether at the beach, at the park or even in a backyard sandbox! I know my kids beg to have the sandbox open whenever we are outside for outdoor play.
I surprised my kids with some new Sand Toys from Melissa and Doug. Melissa and Doug have always been one of my favourite toy companies! I love their bright, cheerful and colourful toys. They are good quality and always educational too – an added bonus.
My daughter's favourite sand toy was the Seaside Sidekicks Sand Cupcake Set. Her creativity went wild while making really fun sand cupcakes! What a fun, creative set.
My three year old loved the Clicker Crab Pail and Shovel. It's sturdy, robust plastic makes it one of my favourites too! I love the fun elements right down to the crab shaped shovel! Playing in the sand is fun, but with fun toys like these, it is extra fun!
Melissa and Doug also have other Sand Toys that are worth checking out: the Seaside Sidekicks Sand Baking Set and the Seaside Sidekicks Sand-Molding Set.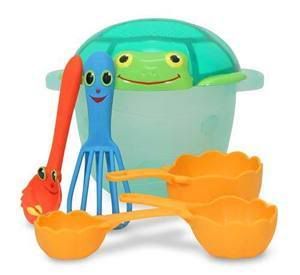 It's definitely not too late to invest in some great Sand Toys. I highly recommend Melissa and Doug for all types of toys.
Feel free to sign up for Melissa and Doug's Facebook for additional information.
Please feel free to enter more of Multi-Testing Mommy's giveaways HERE!
---
Products for review are provided free of cost to Multi-Testing Mommy by the manufacturer or a representing PR agency. Opinions expressed belong to Multi-Testing Mommy and are NOT influenced in any way.