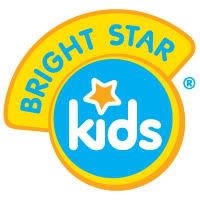 My son's room is the room that we painted and decorated when we first found out we were expecting a baby. We painted it yellow and green, added a fun chair rail as well as some gender neutral decor! It was perfect for our baby girl and for our son when he was a baby.
Now that he is almost 3, it's time to "boy it up" with some fun little boy decorations.
Bright Star KIds has some really fun Wall Art in the form of Removable Stickers that is just perfect for the job!
We chose Super Cars Wall Stickers as my son has shown a recent interest in cars, specifically since a certain movie came out this summer!
It was a very difficult choice to make as Bright Star Kids has such a HUGE variety of Wall Art on their site for boys, girls, the nursery, the kitchen and more! They even have a "Time Out Zone" sticker; they've thought of everything!
The Wall Art Stickers are easy to remove and reuse and that is what I love about decorating with Wall Art Stickers! So, if we decide to one day re-arrange my son's bedroom, the Art won't be affected.
The fabric material of Bright Star's Wall Art is very durable and difficult to destruct which is super important when putting it in a little child's bedroom!
The other reason why I love the "removable" feature of this Wall Art is because as our children grow, so does their taste. This way we aren't "married" to having Race Cars in my son's room forever. Bright Star Kids also has many other options for older children too!
Bright Star Kids is an Australian company that ships worldwide. Their ordering form is SO easy to complete and their shipping is SPEEDY!
---
Check out Multi-Testing Mommy's Giveaways
---
The above product was provided free of cost to Multi-Testing Mommy by the manufacturer or a representing PR agency. Opinions expressed belong to Multi-Testing Mommy and are NOT influenced in any way. Some posts on Multi-Testing Mommy have been sponsored, see MTM's Disclosure for more details.