This post is part of #FDF (Finally Diaper Free), an event all about Potty Training co-hosted by The Knit Wit.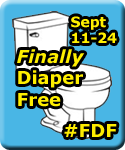 You may wish to start at the beginning of our
Potty Training
Adventure with
Post #1
and
Post #2
.
---
Week #2 was much different than Week #1! We actually made some progress – slow progress but still moving in the right direction.
By the second week of his potty training experience, my almost 3 year old son FINALLY asked for a diaper for when he felt #2 coming. I never in a million years would have thought I'd say that this was progress, but it was. Not only was he starting to communicate when his poops were coming, but he was also asking for a diaper because he understood that we don't poop in our underpants. He has NO interest in pooping in the potty, but I am ok with that….for now.
There were far less pee accidents during the second week of our adventure. He was starting communicate when he had to go and we made it to the toilet most of the time. What was interesting was that he was starting to show SO much control over his pee that he would pee a dribble, ask for a treat and then 10 minutes later pee a HUGE amount and ask for another treat. I stopped offering treats for pee and I also stopped needing to remind him that he would get a treat after going pee in the potty. This was a good sign.
Week Two also marked a new change to our routine as my daughter started Grade One. This posed an interested challenge in our daily routine as when my son wakes up from nap, we must immediately rush to the bus stop to pick up my daughter. This means that he is in NO mood to be told that he must try to go on the potty, but he has been wanting to wear underpants for nap AND he is staying dry. We are using our Super Undies Potty Training Pants as "underwear" protectors for these times, thankfully he hasn't figured out that these training pants are water proof as he does hold his pee when he wears them.
My daughter continues to be an incredible help during this whole potty training experience! One morning, she even got my son out of bed when he woke up, took his diaper off and put him on a waterproof mat with his underpants on. She is finding every way possible to be involved in this process which I am thankful for because it is better than her acting out because she felts neglected.
The end of Week Two had my son holding his pee 90% of the time and asking for a diaper 75% of the time when he had to go #2.
I wonder whether or not we will show progress in Week THREE? This is a longer process than I was originally anticipating.
---
Check out Multi-Testing Mommy's Giveaways
---