Congratulations to tinatchick , the winner!
---
Multi Vitamins for Active Kids
Omega-3's for Smart Kids
Calcium
Vitamin D
Here are some points that make IronKids Vitamins as great as they are:
IronKids use only Natural flavours and colours. Nothing artificial, no sugar coating
IronKids Gummies are Gluten Free, Nut Free
IronKids Omega is the first gummy to use 100% fish oil with no fishy after taste
IronKids Omega Gummy won Canadian Living Best New Product in 2010- voted on by Canadians
IronKids was the first on the market with a Vitamin D gummy for kids
IronKids is only entire brand line approved by Health Canada
IronKids Multi, Omega, Calcium and Vitamin D all won Parent Tested Parent Approved (PTPA) awards in 2011- voted on by Parents in Canada and US
My kids were SO excited that I was allowing them finally have Gummy Vitamins!
Let me just say that these vitamins have worked miracles in our house!
They have:
Encourage my children to eat their dinner
Encouraged to keep my children SITTING at the dinner table
Forced Encouraged my children to try a healthier food choice
Helped my 2 year old learn some math skills like counting and sorting
My kids LOVE these vitamins!
I have a secret to tell you – so do I!
I have been eating taking the Omega 3 vitamins with pleasure! I do not eat fish. I cannot stand fish, not the sight, the smell or the taste of it. I LOVE the taste of the Omega 3 Vitamins! Finally, an Omega 3 that I not only can tolerate, but I actually look forward to taking! No aftertaste at all!
Available In Canada
IronKids are available in Store 60 ct bottles at: Shoppers Drug Mart, Rexall Pharma Plus, Metro, Sobeys, all Loblaws/Fortinos/SuperCentres and London Drugs.
IronKids are available in Store 120 ct bottles Multi and Omega only at: Zellers, May 2011 – Shoppers Drug Mart, Rexall Pharma Plus, Loblaws/Fortinos/SuperStores and London Drugs.
IronKids are available in Store 200ct IronKids Multi at Real Canadian Superstores. 200ct IronKids Omega 3's at Costco's across Canada.
IronKids are available online at Well.ca in Canada.
Available In the US
Available online at Walgreens.com, Target.com, CVS.com, Amazon.com in the US.
Here is a $2.00 off coupon towards your next purchase of Iron Kids Vitamins if you sign up for Iron Kids eNewsletter.
Here is a photo of what a Canadian winner will receive: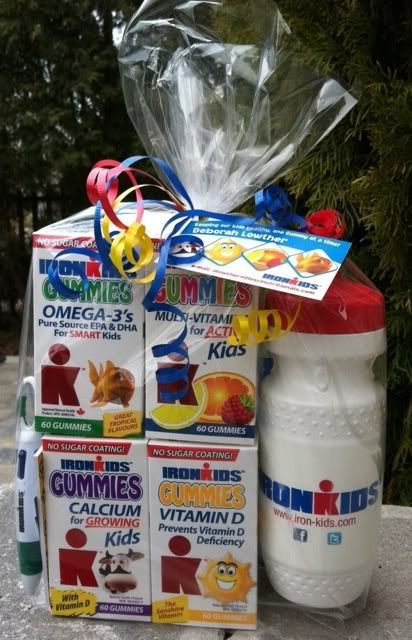 A winner from the United States will receive 2 bottles of IronKids Multi and 2 bottles of Omega from the American distributor.
News on the Adult side:
Adult Essentials on Facebook
Adult Essentials on Twitter
For more Multi-Testing Mommy Giveaways, please go here.