Mornings are rather chaotic around our house to say the least! I've recently been enjoying some faster breakfast options for myself, one of which is an Organic Whey Protein Powder made by Prairie Naturals.
I was sent the Wild Field Berry flavour to test out. Although I do find that you need to have an acquired taste to enjoy a protein powder shake, once you get used to them, they really are yummy! What I enjoy the most is when I do have a bit more time and I can add a scoop of powder to my homemade smoothies. This packs my smoothies with additional protein and nutrients and gives me an extra boost! I find these powders mix best with a mini battery powered milk frother! They are smooth and delicious this way.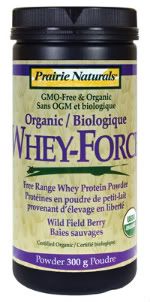 ---
Prairie Naturals Organic Whey-Force™ is:
Delicious and versatile for protein shakes
Very low in fat, carbohydrates and lactose
Used to build strength and muscularity
Effective for supporting weight loss
A stabilizing factor for blood sugar levels
A support for encouraging fat loss
For people of all ages and activity levels
A quick "pick-me-up" or high protein meal
Organic Whey-Force™ from Prairie Naturals is one of the purest whey proteins available. Naturally derived from organic fresh milk, Organic Whey-Force™ is micro ultra-filtered (for better absorption) and concentrated, without the use of high heat or acid treatments which can denature and damage protein molecules. Our Organic Whey-Force™ has absolutely no sugar, artificial flavours or colours. Neither does it contain the high levels of fat or cholesterol found in many other protein sources such as eggs, cheese and meat.
Above information taken directly from the Prairie Naturals website.
---
And now for a giveaway!
Please note: I am trying out RaffleCopter as a means of giveaway entries. Rafflecopter is still very new and is currently in "test mode" so there still may be a few glitches (on their part and on mine!). I'd love your feedback on it – do you love it, like it, hate it and why! You can leave your feedback in the comments on this post. The comments on this post aren't included in the random entries – those are tracked in Rafflecopter.
---
Multi-Testing Mommy received a sample of Prairie Naturals Organic Whey Protein Powder for purposes of this review. Products for review are provided free of cost to Multi-Testing Mommy by the manufacturer or a representing PR agency. Opinions expressed belong to Multi-Testing Mommy and are NOT influenced in any way.