I went to see Billy Elliot on the weekend (AMAZING show, btw!) and I was gone all day long! I wore my Rib Tights by Kushyfoot. These tights are made with a 3-dimensional massaging sole that massages your feet with every step and that they do–literally! They have little ribs under your feet that provide additional comfort under your feet, especially when you are wearing flats that really don't provide you with any padding at all! I didn't wear any shoes on my feet before I left my house (and I usually do because we have hardwood floors) and my feet were actually comfortable! I really like these tights. They were great all day long. The didn't stretch out, they kept their shape from 9am until 7pm!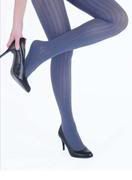 ---
I love my Flats to Go! I can literally tuck them in my diaper bag and they can come with me anywhere. They can be used to dress up at a dinner party or I feel ok even wearing them when I take the kids to the indoor playground and we aren't allowed to wear shoes. According to the Kushy Foot website, the Flats to Go are soft, flexible faux leather and are an instant and elegant solution to a perennial need for the relief of sore heels, blisters and scrunched up toes. They feature an elastic back for a better fit, and a unique, 3-dimensional wavy sole that cushions and massages the foot as the wearer walks-perfect for indoors and for any even outdoor surface. They slip neatly and easily into their owner's purse, folded into a cute clear plastic carrier with its own little handles.
I really am happy that I was able to give these neat little shoes a try because I just love them! Before I was sent these shoes, I was in the market for a pair of flats to use as an indoor pair of "dress up" shoes. I no longer feel the need for those shoes. My Flats to Go serve that purpose just fine!
---
Products for review were provided free of cost to Multi-Testing Mommy by Lipton Publicity Inc. Opinions expressed belong to Multi-Testing Mommy and are NOT influenced in any way.
---