I received a package from Kraft Foods in order to help promote their Recipe for Joy program. Inside the package, I received some recipes to help me entertain this holiday season, some ingredients to help me create these recipes and a gift card to allow me to purchase the remaining required ingredients.
My daughter and I took our first Holiday Baking Adventure together today! We made
Sugar Cookie Cutouts. They were super easy to make and boy do the ever taste delish! My daughter had a blast decorating them. Here is how they turned out: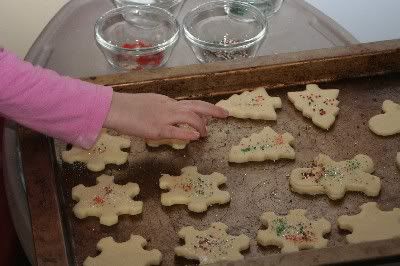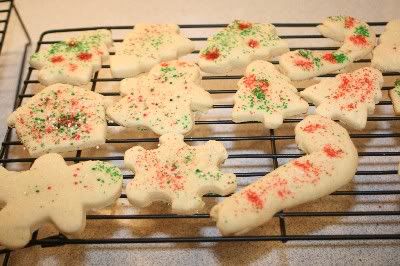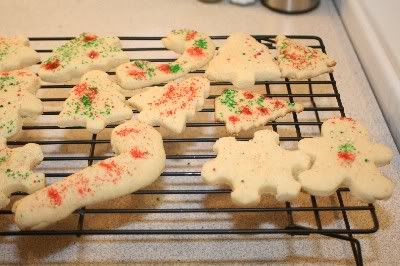 Sugar Cookie Cutouts recipe from Kraft
prep time
20 min
total time
1 hr 2 min
makes
3-1/2 doz. or 42 servings, 1 cookie (29 g) each
what you need
1 pkg. (250 g) Philadelphia Brick Cream Cheese, softened
3/4 cup butter, softened
1 cup granulated sugar
2 tsp. vanilla
2-1/4 cups flour
1/2 tsp. baking soda
1/4 cup coloured sugar or sprinkles
directions
BEAT first 4 ingredients in large bowl with mixer until well blended. Mix flour and soda; gradually add to cream cheese mixture, mixing well after each addition. Refrigerate 30 min.
HEAT oven to 350°F. Roll dough to 1/8-inch thickness on lightly floured surface. Cut into shapes with 3-inch cutters. Place, 2 inches apart, on baking sheets sprayed with cooking spray. Sprinkle with coloured sugar.
BAKE 10 to 12 min. or until edges are lightly browned. Cool on baking sheets 2 min. Remove to wire racks; cool completely.
Kraft kitchens tips
SUBSTITUTE
Substitute icing sugar for the granulated sugar.