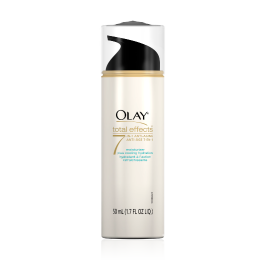 I recently received a bottle of Olay Total Effects 7 in 1 Anti-Aging Moisturizer to sample.
The key feature of this moisturizer is that it fights 7 signs of aging by:
Minimizing the appearance of fine lines and wrinkles
Soothing dry skin with cooling moisturization
Fighting dullness for a healthy-looking radiance
Gently exfoliating to smooth and even skin's texture
Refining to minimize the appearance of pores
Helping protect skin's surface from free radical damage
Hydrating to firm the appearance of skin
Olay Total Effects also contains vitamins, minerals and cooling mint extract for a fresh feeling.
I can't believe how extremely smooth my face feels after applying just one application of this cream! It's magic stuff! Not to mention the fact that it goes to work minimizing the aging effects that are going on in my 35 year old body (for those of you who don't know, I recently turned 35).
I like the refreshing smell of this moisturizer and I will continue to use it every day throughout the winter months as I believe it will keep my face from getting that tight, dried out feeling that the rest of my body is starting to feel right now thanks to old man Winter!