I have to admit that although I do love my occasional "fancy coffee", I'm a true Canadian when it comes to coffee. I love my Timmies!
I've received Tim Horton's gift cards in the past and plowed through them like water–I do love my coffee!
I recently received a gift card to try out a few of Tim Horton's new breakfast items! I was pretty excited, I won't lie.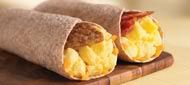 I tried out the new Breakfast wraps first. They are made with fresh whole wheat tortillas. My favourite part was the "savoury sauce", it was what set this wrap aside from any other breakfast wrap that I've had. It was super easy to eat in the car too! Yum! Yum!

Now, I was supposed to try out the new Homestyle Oatmeal, but let me tell you…this must be one "hot" item (no pun intended of course!) because I have now been 3 separate times in attempt to sample this oatmeal and each time, they had run out and were either in the process of making a new batch or they simply weren't serving any more that morning. I have no doubt that the oatmeal is yummy! I have yet to taste anything at Tim Horton's that isn't delicious, but I won't deny being slightly disappointed in the fact that I've been three separate times and have been turned away all three times! AND I have to mention, I brought my kids with me all three times too, getting their hopes up as well. Luckily Timmies has many other delicious treats that I could console them with 🙂 And I'm always happy to enjoy a cup of coffee, no disappointment there.
So, if anyone out there has tried out the oatmeal, I'd love to hear your thoughts on it! Please do share.
Tim Hortons is now offering a hearty and wholesome breakfast for time-crunched Canadians with its NEW Homestyle Oatmeal. Most Canadians don't have an extra 45 minutes to make authentic, slow-cooked oatmeal, but Tim Hortons does! This hot, healthy morning option is made with care; it's slow-cooked for 45 minutes every morning and available in two delicious varieties: Maple or Mixed Berries. Now Canadians can save time AND eat healthy.
In addition to Homestyle Oatmeal, Tim Hortons has added Breakfast Wraps to its breakfast menu. Freshly prepared with quality ingredients like scrambled eggs, real cheddar cheese and wrapped in a whole wheat tortilla. The Breakfast Wraps are available with bacon or sausage– a perfect, portable breakfast option.