Feel free to enter my Upper Canada Soap contest that ends this Sunday at 11:59pm!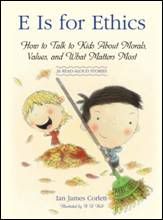 I am so happy and proud to feature a Canadian author, Ian James Corlett. He has written an amazing book called E is for Ethics that has 26 short, simple and clear stories that feature Elliott and his little sister Lucy. Each story centers on a particular positive ethic, such as honesty, kindness, charity, and integrity. After each story, there are a series of questions that guide parents into a healthy discussion about each ethic.
I feel like this book is very unique. I have yet to come across many books like this that focus on ethics and also foster discussions with your child.
My almost 5 year old daughter and I have enjoyed reading through this book. She loves to answer the questions and to discuss each ethic after the story has been read to her.
Reading this book with your child is definitely a unique and fun way to broach the topic of ethics, rather than simply discussing them. I always find that when you provide children with specific examples or characters that they can relate to in some way, a topic is received and understood better.
I sure could have used a book like this when I was teaching Kindergarten. I would have loved to start each day off with a little story and discussion about ethics. This would have been a wonderful addition to our Character discussions.