Back at the end of August, I was introduced to PGX products and I wrote a beginning post called Will PGX Change My Life. I encourage you to take a moment to go read that post to get a feel for where my journey with PGX began.

Two weeks later, I wrote a post sharing an update on my PGX use. You can read about that post
here
.
Now, here I am 2 months later to share with you my overall experience and thoughts about PGX products.
"PGX (PolyGlycopleX®) is a composed of water-soluble polysaccharides (plant fibres) that effectively balance blood sugar levels, reduce appetite, and help with weight loss."
Information taken directly from the Webbers Naturals website.
I have tried out PGX Daily Softgels, PGX Daily Granules and PGX SATISFAST (PGX and Whey Protein). I like them all for different reasons.

Although the Daily Softgels are HUGE horse pills, they are convenient to take in that all you need is a huge glass of water. It did take me approximately three weeks to allow my body to regulate and for me to determine what amount worked best for me. This was the one product that didn't fully agree with me at first, but with LOTS and LOTS of water and a slow increase in the amount of pills I was taking, I was able to adjust quite nicely. The pills have no taste, are easy to swallow (given their large size) and definitely helped to curb my appetite and crave less junk. The one downside to these pills is that I found them difficult to carry with me and I wasn't home a lot during my first month of taking them.
This is where the Daily Granules came into play for me. They come in a small, convenient and very portable size. I didn't have much success with using them with water (I found the texture of the water too difficult to drink), but they worked REALLY well for me in oatmeal and yogurt.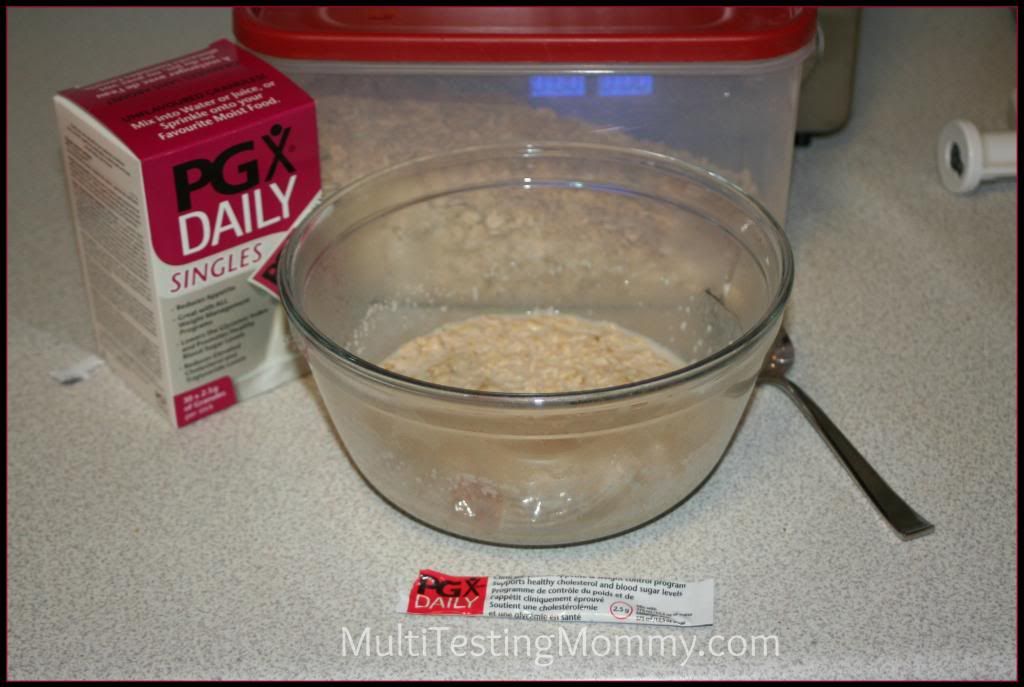 My favourite product by PGX that I sampled was the PGX SATISFAST. This is a Whey Protein shake powder that contains PGX. I enjoyed using this product to make smoothies at breakfast and sometimes lunch. I absolutely love the "Very Vanilla" flavour and the consistency ended up being a good match for me, providing I used other fruits to add to the texture.
Have I lost weight being on PGX, the honest truth is no, unfortunately not. However, I do not hold PGX responsible for this. It has been 110% my fault. A lot has been going on in my life these past couple of months which has lead to stress, bad food choices and less exercise. All of those things combined meant that I wasn't always able to remember to use PGX every day and I also unfortunately didn't have as much will power when it came to bad food choices.
I highly recommend using PGX and giving it a fair try. I definitely found that when I was the most committed to using it, I had less cravings and I felt full longer (and was easily able to decrease my portion sizes).
IT'S GIVEAWAY TIME!


Prize: $50 in coupons for Webber Natural products
Open to Canadian Residents only
Giveaway ends December 5, 2012
a Rafflecopter giveaway
---
Pin It
Check out Multi-Testing Mommy's Current Giveaways

---
Multi-Testing Mommy was provided with promotional materials free of charge, by the manufacturer or a representing PR agency, in the hopes that it would be mentioned on this blog. Opinions expressed belong to Multi-Testing Mommy and are NOT influenced in any way. See MTM's Disclosure for more details.