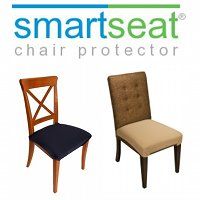 When my kids were little and we carted around our food booster seat wherever we went, I also brought a towel with me in case we had to put their feeding chair on a NICE dining room chair. My kids were (and still are) messy eaters and I never wanted to be responsible for ruining someone's beautiful dining room chairs!
My Mom always has a large towel put out on all of the chairs that my children eat on when we go to visit in order to contain their messes so that they do not ruin her nice dining room chairs. The downside to using towels is that while they do protect the cloth of her chairs from crumbs, they aren't water proof!
Now that my kids are older, they still are asked to sit on a towel in order to prevent stains on the chairs and now I am happy to say that we have a fancy solution!
I am so excited to have finally found a product that is made specifically to cover chairs that is also water proof!

These SmartSeat chair protectors do not ruin the look of a nice chair as they wrap snugly and come in a variety of colours to match any decor. Children can sit on these covers without even realizing that they are on "special chairs", which allow them to feel part of the group.
SmartSeat covers is yet another amazing parent invention! It's always the parents that come up with these great discoveries because parents are the ones that see the need! There is definitely a need to cover up fancy chairs when children are concerned!
The SmartSeat cover is a very simple design that is extremely easy to use with only straps and velcro. There are a few different ways that the cover can be secured to a chair allowing the flexibility to be attached to a variety of styles of chairs.

The SmartSeat cover comes in a variety of colours including dark blue, tan, dark brown, black and burgundy red. It is a waterproof, stain resistant, and machine washable cover made from "soft-to-the-touch",
toxin-free
fabric. The SmartSeat's patent-pending design uses adjustable straps to securely fit chairs ranging from 18″ to 25″ wide.
The covers retail at $19.99 each for 1-3 covers and they decrease in price the more you buy. They also have FREE SHIPPING to the US and CANADA.
---
Pin It
Check out Multi-Testing Mommy's Current Giveaways

---
Multi-Testing Mommy was provided with promotional materials free of charge, by the manufacturer or a representing PR agency, in the hopes that it would be mentioned on this blog. Opinions expressed belong to Multi-Testing Mommy and are NOT influenced in any way. See MTM's Disclosure for more details.