I still remember my very first REAL doll. Her name was Jenny and she had long, straight black hair. I remember what her eyes looked like, I remember what her face felt like and I remember bringing her along with me wherever I went for quite some time.
This year, I know that many of you would love to provide your daughter (or special little one) with a special experience this holiday! I have the perfect suggestion for you:

A Maplelea Girl
Did you know that
Maplelea Girls
are made by a
Canadian Owned and Operated
company! Their dolls are specifically designed to encourage Canadian pride amongst the children that play with them.
Items available with Maplelea Girls are their Traditional Girls, Maplelea Friends Dolls and a large variety of Doll Accessories.
The SIX traditional Maplelea Dolls will educate your child about Canada's culture, heritage and geography. They each come with a 64-page journal illustrated with doodles, photos and writings done by the doll character to tell about her life and the part of Canada she calls home. The writing in the journal is very realistic and adds that extra dimension to the reality of the doll. It allows a child to get right into their doll's head and will also help them form their imaginative play knowing a bit more about their doll. I really like how there are blank lined pages at the end of the journal for your child to document their fun that they experience with their new friend and how each new outfit (sold separately) comes with a page to insert into their journal.
The dolls' names are: Jenna, Taryn, Brianne, Léonie (lay-oh-nee), Saila (sigh-lah) and Alexi. Each Maplelea Girl retails for $99.99. The dolls are created with girls 6-12 years old in mind.
Maplelea Friends come with a 32 page journal full of prompts and questions with blanks in order for your child to create a personality that suits their special doll.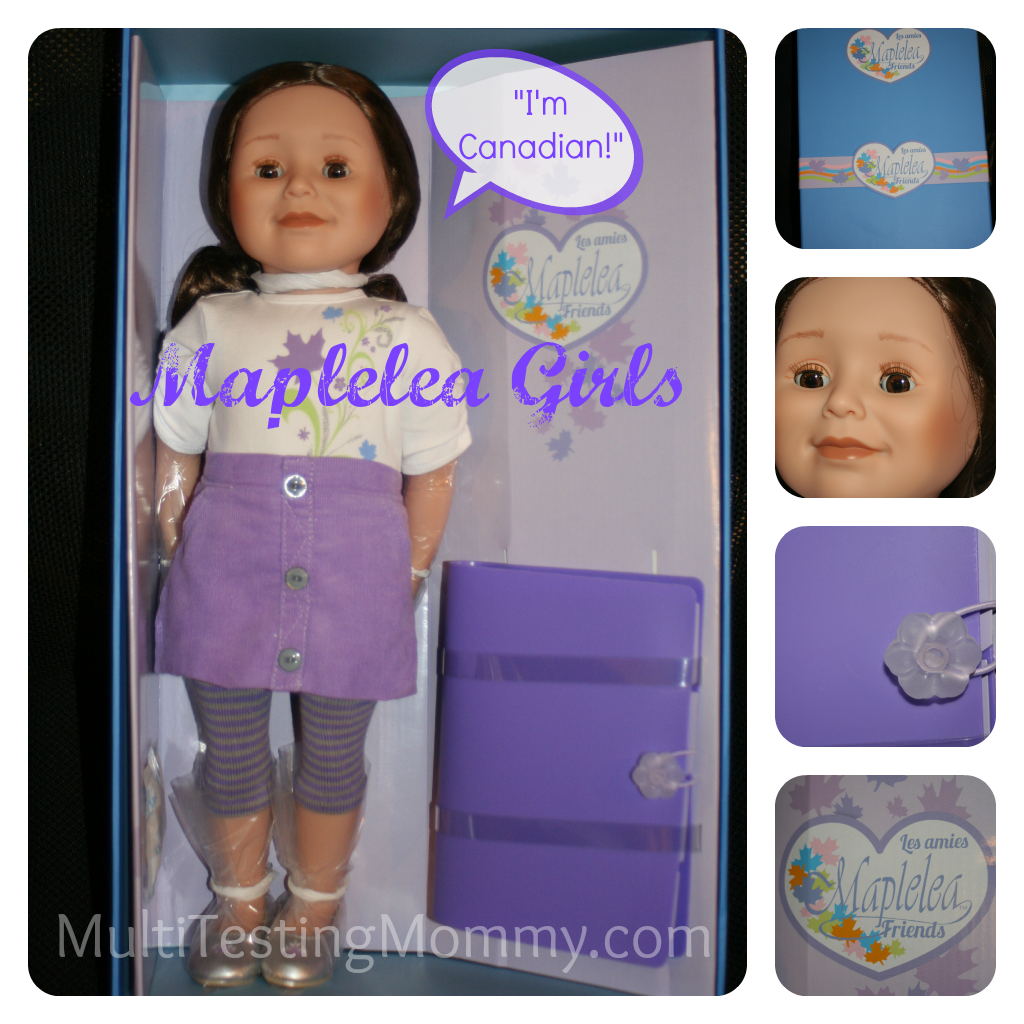 Included in your Maplelea Friends Box ($99):
18 inch Doll
soft, huggable body and poseable arms and legs
eyes open and close
Graphic Tee
Corduroy skirt with pockets
Striped footless tights
Shoes with mapleleaf cut-out
Keepsake journal
Can you believe that there is even a Maplelea Spa that you can send any broken dolls to. For $65, you ship out your doll and a brand new doll arrives looking and feeling great. She will be wearing a comfy spa gown and matching slippers, accompanied by new pages for her journal. Return shipping by regular service is included in the fee.
We received this Maplelea Friend. I have complete confidence that my 7 year old daughter is going to bond with her new doll after she decides what to name her and that she will have years of fun times ahead.
I truly feel that one of these dolls would make an excellent gift for a young girl that will create memories for a lifetime!
IT'S GIVEAWAY TIME!


Prize: 1 Maplelea Friends Doll
Open to Canadian Residents Only
Giveaway ends November 30th, 2012a Rafflecopter giveaway
Order your Maplelea Girl Gift now!
Just in time for Christmas!
Call 1-800-668-4339 24/7 or order online!
---
Pin It
Check out Multi-Testing Mommy's Current Giveaways

---
Multi-Testing Mommy was provided with promotional materials free of charge, by the manufacturer or a representing PR agency, in the hopes that it would be mentioned on this blog. Opinions expressed belong to Multi-Testing Mommy and are NOT influenced in any way. See MTM's Disclosure for more details.