For those of you who have been followers for a while, you will know that I am a HUGE Norwex fan! My favourite product from Norwex is their Enviro cleaning cloths! I have been using them for well over a year now and I am sold!
Recently, @_GreenMandy had me branch out and try the Norwex MEDITERRANEAN Organic Olive Oil Salt Scrub! This product retails for $39.99 and comes in a 420 ml tub
with a 60-day warranty!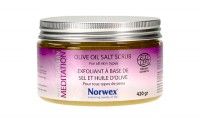 Mandy suggested that I try it on my legs prior to shaving and let me tell you, she was totally right! I have never had a closer, smoother shave before! The scrub feels SO good on my skin! I can't describe just how amazing my legs feel after using this amazing scrub!!!! What a treat for my body.
This product reminds me to the top quality products that are used at high end spas when you get an exfoliating leg rub, except it costs much less money AND it lasts for many uses! I have used it at least 3 times now and I haven't even touched half of the tub.
I do have to give a small warning and that is because this product is made with Olive Oil, it is rather greasy/oily to use. It can make the floor of your shower or the bottom of your tub rather slippery, so if you do decide to treat yourself and purchase this Spa-quality product, please be safe!
---