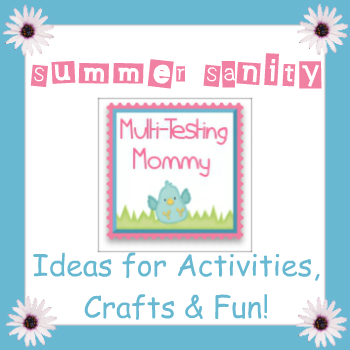 Well folks, this post isn't so much about summer, but because it is something that we must think about, I've still labelled it as "Summer Sanity". Part of the end of summer is all about preparing for school. This year, my daughter heads off to grade two and my son starts Junior Kindergarten.
A lot of people have asked me how they can prepare their little one to start school for the first time. I have spoken with other parents and am also pulling out ideas that I used to give parents when I taught Kindergarten.
Here are a few things that you can do to help your child be prepared for school:

Buy a pair of shoes that will be called their "indoor shoes" (most schools require these) and wear them around the house. Have your child learn how to put them on (the correct feet) and take them off. It also helps (yes, this tip comes from a former Kindergarten teacher!) to teach them that when they take their shoes off, the shoes should kiss each other (so that they don't get mixed up amongst the other shoe chaos).
Have your child practise getting dressed for school from head to toe. This includes clothing, outerwear, shoes and backpack.
Pack a faux back to school lunch and sit with your child while they unload their lunch bag, open the containers (CLOSE the containers) and zip it all back up. They may need a few tips to help them with this.
Practise the actual walk/drive to school (if they are bussed, pretend your vehicle is a bus). This may sound silly, but this helps them to mentally prepare how the first day will feel.
Work on teaching them how to print their name. There isn't much worse for a teacher than a class full of Kindergarten children who don't write their name (or something that resembles their name) on their work! No one EVER remembers which piece of work theirs is (maybe that's because they all look the same – lol)
Walk your child through their backpack. Practise opening and closing all zippers and pockets. Talk to them about what each section is for (e.g. where to put their lunch, water bottle, school work etc.).
This sounds silly, but show them that you have labelled all of their belongings so they know what to look for. At school, everything starts to look the same to them!
Talk to them about remembering to tell the teacher when they feel they need to use the washroom AND if they have an accident, remind them how important it is to tell their teacher!!!
Some of these reminders and suggestions may sound silly, but young children get so distracted at school, these reminders may help them stay organized. Don't be surprised if you have to remind them about things for the first few weeks.
You can read more about preparing yourself and your child for Kindergarten on Multi-Testing Mommy:
I have also written a few other articles about Kindergarten parents that you may wish to read as this is a topic that I am very passionate about, having spent a number of years as a Kindergarten teacher and having two children of my own complete Kindergarten.
Kindergarten Parents Support Group
Getting Ready for Full Day Kindergarten
Preparing for Kindergarten – Part 1
Preparing for Kindergarten – Part 2
A Kindergarten Visit – Who Needs More Preparation, Mom or Child?
For all NEW Kindergarten Moms and Dads, This is For YOU!
Back to School – Mommy, I Don't Want to Go
Don't forget to get organized with LABELS from Oliver's Labels by labelling everything that you send to school!

I am an Oliver's Labels Agent.