Inspired by real Moms and developed by the Disney team of "Momgineers", the Disney Cuddly Bodysuit makes babies even more huggable.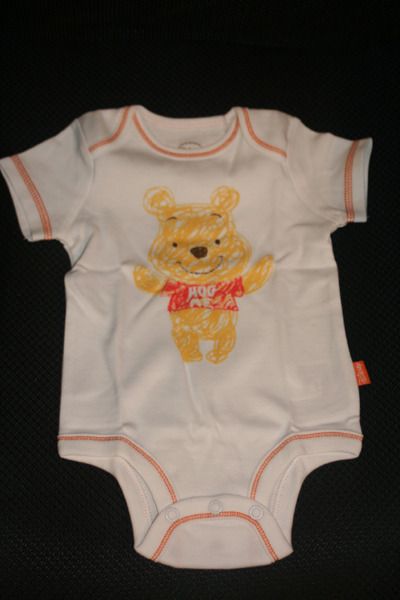 The material of this bodysuit (or what I call a "onesie") is soft and made out of 100% ring-spun combed cotton. It features a "grow with me" design that has two rows of snaps to ensure extended use as your baby grows. Sizes include 0-3, 3-6 and 6-9 months. The onesie is "tagless" allowing for no skin irritation. It is top quality, well made and simply adorable!
This onesie is available in six different styles featuring Disney characters such as Mickey, Minnie, The Little Mermaid and more. There are also coordinating shorts to go with the onesies to make an adorable outfit, perfect for a baby shower gift or for a new baby!
My favourite feature, by far, is the extra row of snaps! I remember when my children were wee, they grew out of onesies like they were going out of style. I was often hesitant to spend extra money on an adorable onesie for fear that it would only fit them for two weeks. With the extra row of snaps, this Disney bodysuit is sure to fit a baby for a good length of time and what baby doesn't deserve at least one adorable Disney outfit?!
I can't wait to give this onesie to my sister when she has her baby this fall! I am excited to give her such a top quality, adorable bodysuit for her new baby to wear. The Winnie the Pooh character on the front of the onesie is adorable and I love the red stictching around that reinforce the edges and provide the bodysuit with that extra bit of detail!
---
Pin It
Check out Multi-Testing Mommy's Current Giveaways

---
Multi-Testing Mommy was provided with promotional materials free of charge, by the manufacturer or a representing PR agency, in the hopes that it would be mentioned on this blog. Opinions expressed belong to Multi-Testing Mommy and are NOT influenced in any way. See MTM's Disclosure for more details.