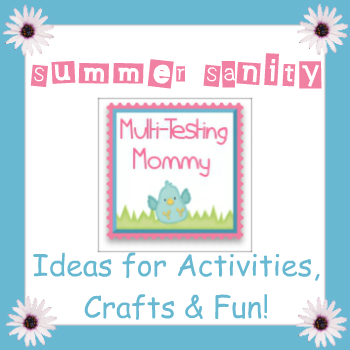 This Guest Post is a part of
Summer Sanity
, a series of posts for parents to gain ideas and inspiration for how to keep their children happy, active, educated and having fun during the long summer months.
---
Today's Activity: Scavenger and Treasure Hunts.
Summer holidays back on the farm I suspect, are quite different than summer holidays in the city. There were no playgrounds, libraries, movie theatres, etc. to entertain our young bodies or minds. There was TV but we were never huge TV watchers, we had an Atari but that can only keep you entertained for so long. There were no friends around for miles, just my older brother (and much later my baby brother) and if you left the two of us alone together for too long, well we'd just find trouble.
There were always chores to do. You didn't dare say the words "I'm bored" or mom would be sure to find some job to fill your time. We knew how to work hard, and we did. I firmly believe that putting your kids to work on age appropriate chores is a great thing, but you can only make them work so much before it just becomes child labour.
My mother was quite good at coming up with creative ways to keep us occupied. One of my favorite summer time activities was a scavenger hunt, and when I was a little older I enjoyed the challenge of a treasure hunt. I know these two "games" often get lumped into one single activity but they are slightly different.
A true scavenger hunt involves scavenging for items on a list. The scavenger hunt can be enjoyed by kids of all ages because it's so easy to tailor it to a specific age group. For the wee ones, who can't read yet, you can make them hunt items simple to find and use pictures instead of words on your list. Simple things, like a feather, a rock, a flower, etc are perfect for toddlers and preschoolers. Just make sure that whatever you are asking them to find is readily accessible to them or they will just get frustrated and lose interest. For the older kids you can make the items a little more challenging to find. You can be more specific, like a duck feather, a yellow daisy, a rock with quartz, etc.
Another really creative way to do a scavenger hunt with older kids is to send them off with a digital camera. Rather than actually finding items to bring back they take pictures. You can be pretty vague with your list here and give them the freedom to show some artistic licence. Some examples might be, take a picture of something pink, something that makes you smile, something you want, etc. The possibilities are pretty endless!
Scavenger hunts are also great because they can be done anywhere; at the park, in your campsite, in your own backyard or even in the house on those rainy days. It's usually pretty easy to come up with ideas to put on your list. They also accommodate any number of kids. One to three kids can each have their own list to hunt down and with groups of four or more breaking them into teams is the way to go. It's a great way to introduce or foster team building skills to kids too!
The treasure hunt is a slightly different game. This involves giving kids a clue which leads to the next clue and so on and so on until they find the "Treasure". A treasure hunt is awesome for older children. Again, you can give them clues that are just the right challenge for their age. Younger kids can also take part in a treasure hunt but it's best to do it a little differently for the toddler/preschooler age group. Again, you will have to use pictures. For example if the first clue is hidden in the sandbox, your clue could be something as simple as a picture of a sandbox (for the very young ones I would use a picture of their actual sandbox), or a little more complex, maybe a picture of kids building a sand castle. I also recommend, for the younger kids, that you actually place a small treasure (or a favorite snack) with each clue. It's a great way to keep them motivated. Simply having them hunt down another piece of paper might lose its appeal pretty quickly. Cheap dollar store items are perfect for this.
Treasure/Scavenger hunts are simple, affordable and stimulating ways to keep your little ones busy during the summer. They keep the kids active and engaged and help you hold on to your sanity! There are tons of great resources on the internet to help you out with clues. Here are a few suggestions:
TinkerGarten.com
ScavengerHuntsForKids.com
Free Treasure Hunt Clues
Remember, when it stops being fun it's time to pack it in. The rule of thumb is that kids' patience will last about twice as many clues as they are years old.
Happy Hunting!!
---
Guest Post Written and Shared by: Shayna
Shayna is a mommy to a feisty (but adorable) two year old daughter, wife to a supportive husband and co-parent, working outside the home and trying to balance it all. Stop by and visit her at Outside the Box.