My favourite family meals in the summer always involve the bbq. Specifically, I love to eat bbq'd steaks. We had the opportunity to pick up some Sterling Silver premium AAA Beef Tenderloin from Sobeys. We had a great time shopping the aisles of our local Sobeys store, in search for the perfect Compliments and Sensations by Compliments products to compliment our meal.
On the menu:
BBQ'd Sterling Silver premium AAA Beef Tenderloin
Balsamic Steak & Spinach Salad
Creamy Potato Salad
Corn on the cob and beans
Dessert: Ice cream sundaes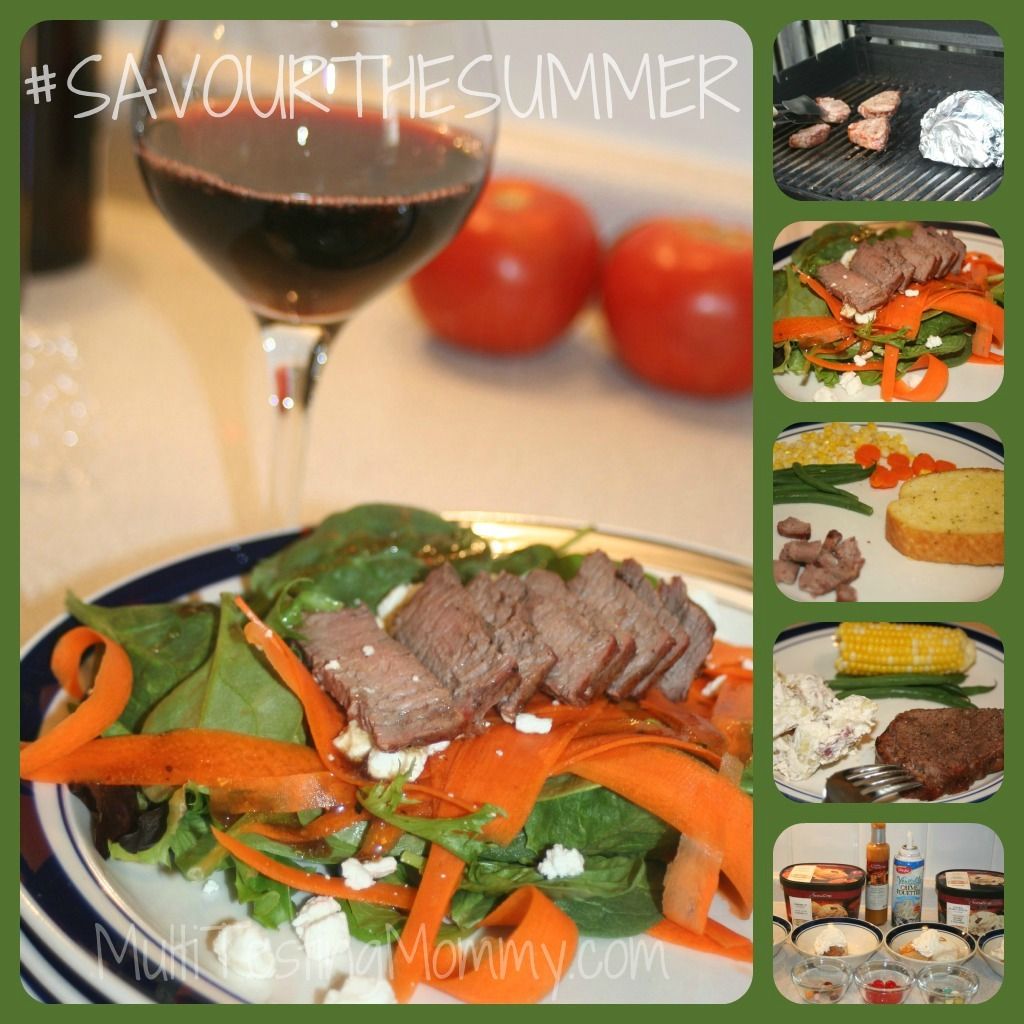 Balsamic Steak & Spinach Salad
Original Recipe Found on Inspired.ca.
With our steaks, I created a delicious Steak & Spinach Salad (for myself) inspired by one of the recipes at
Inspired.ca
.
Ingredients:
Sterling Silver premium AAA Beef Tenderloin
Compliments
Organic Baby Spinach
Sensations by Compliments
Balsamic Vinaigrette
Compliments
Goat's Milk Cheese Crumbles
Carrot ribbons (made with a vegetable peeler)
Directions:
BBQ Beef Tenderloin to desired doneness.
In a large bowl, combine spinach, balsalmic vinaigrette and goat's milk cheese crumbles.
Place salad on dinner sized plate.
Top salad with carrot ribbons and sliced beef tenderloin.
I also made a delicious Creamy Potato Salad using Compliments Yellow Petites Potatoes, Miracle Whip Dressing, Greek Yogurt, shredded cheese, bacon, salt and pepper.
We served our dinner with fresh corn on the cob and green beans.
The food was all so yummy! A perfect summer BBQ indeed. The steak was moist and tender and the salads both were so delicious! The dessert speaks for itself.
Here are some tips for learning how to select, trim and prepare Sterling Silver® cuts of meat:

Do you have a hard time cooking your steaks to perfection? Here is a short video about timing courtesy of Stirling Silver Premium Meats and Sobeys:

When dinner was complete, the children piped up, asking about dessert. I had no dessert items in the house, so after quite the lengthy family discussion, my husband came up with a brilliant idea! We went back to Sobeys to purchase some ingredients to make and enjoy ice cream sundaes. Each child picked a Sensations by Compliments ice cream (we ended up with Carmelo-O and Double Peanut Butter flavours. Both are made with real dairy cream and tasted rich, sweet and delicious! My husband found another great find: Creamy Caramel Drizzler another Sensations by Compliments product that was the perfect touch to our indulgent dessert! Ok, the kids might have convinced me to buy a few mini jelly beans to put on top too – it really was treat night!
Feel free to head on over to enter another $100 Sobeys Gift Card Giveaway at The Knit Wit! Go ahead, my giveaway will still be here when you return!
IT'S GIVEAWAY TIME!
One lucky reader will win a $100 Sobeys Gift Card to enjoy a Summer Meal on Sobeys!
Open to Canadian Residents only. Giveaway ends July 31, 2012.
a Rafflecopter giveaway
---
Pin It
Check out Multi-Testing Mommy's Current Giveaways

---
Multi-Testing Mommy was provided with promotional materials free of charge, by the manufacturer or a representing PR agency, in the hopes that it would be mentioned on this blog. Opinions expressed belong to Multi-Testing Mommy and are NOT influenced in any way. See MTM's Disclosure for more details.