Eco Compo is a pretty incredible product for all of you BackYard Composters and Green Bin Users!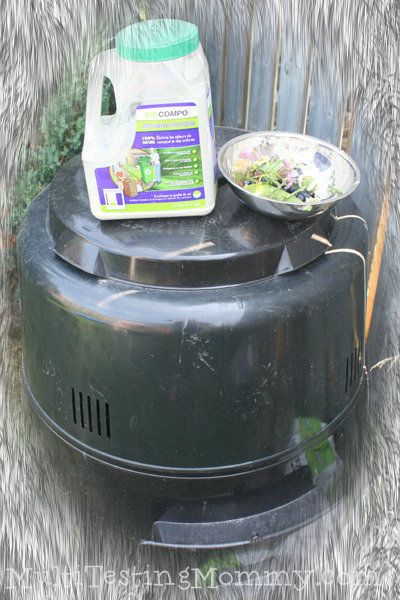 What is Eco Compo?
EcoCompo is an innovative composting aid that both facilitates the composting process and also enhances the quality of the end product: nutrient-rich soil

When I was first approached to try out Eco Compo, I wasn't exactly sure what to expect. I had just started to regularly use my backyard compost and was still trying to get a system that worked for me. I wasn't enjoying the fact that every single time I cut up a fruit or a veggie, I was having to head into my backyard otherwise the kitchen would get stinky.
As well, with the warmer weather, our kitchen green bin was starting to get smelly faster!
Eco Compo helped with all of these issues.
It eliminates compost and garbage odors naturally! No more poisonous spray! YAY!
So, I did a few experiments….
I let my green bin fill up in the kitchen (under the sink) until I noticed the smell. I sprinkled some Eco Compo in and within a short amount of time, the smell had significantly dissipated.
I noticed that when I left my bowl full of kitchen scraps (fruits/veggies) on top of my counter for more than a day, it would start to get smelly. I sprinkled some Eco Compo into this bowl and sure enough within a short period of time, there was no smell.
Because of the location of my backyard composter, it gets a bit smellier than I think it should (I think it needs more sun). Every other time that I dump food into our composter, I sprinkle some Eco Compo in. Since I started doing this, I have hardly noticed the smell!
Eco Compo is known by geologists as an extremely porous mineral called zeolite. This mineral increases water retention of the resulting soil, increases aeration and improves drainage and nutrient retention.
I have been using Eco Compo for almost 2 months now and I still have a significant amount left in my 4.5 kg jug! It is very convenient to use and store. It has a water tight lid so I keep mine right beside my composter as my hands are always full when I am heading out to the back of the yard.
I was reading on the Eco Compo website that this product can be used to reduce the smell from kitty litter boxes! It wouldn't surprise me in the least if this is true and who wouldn't want to decrease that smell because man, litter boxes are smelly!
Eco Compo is an all-natural volcanic mineral that is entirely safe to touch and is harmless if accidentally ingested by children, pets, and wildlife. EcoCompo also contains no phosphates, chemicals or dyes. Knowing this make me feel comfortable using this product near areas where my children play!
Feel free to head on over to the Financial Post to read an article about Earth Innovations Inc., the creators of Eco Compo that discusses EcoTraction, their other product (a natural alternative to road salt). You can also read a review on Multi-Testing Mommy about EcoTraction.
---
Pin It
Check out Multi-Testing Mommy's Current Giveaways

---
Multi-Testing Mommy was provided with promotional materials free of charge, by the manufacturer or a representing PR agency, in the hopes that it would be mentioned on this blog. Opinions expressed belong to Multi-Testing Mommy and are NOT influenced in any way. See MTM's Disclosure for more details.