When SnuggleBugz contacted me to check out their online store, I was very excited! I have heard of this Canadian store before and, in fact, I have driven past it before while on the highway and was very curious about their childrens' products!
We received a Diono Monterey Booster Seat for the car for review.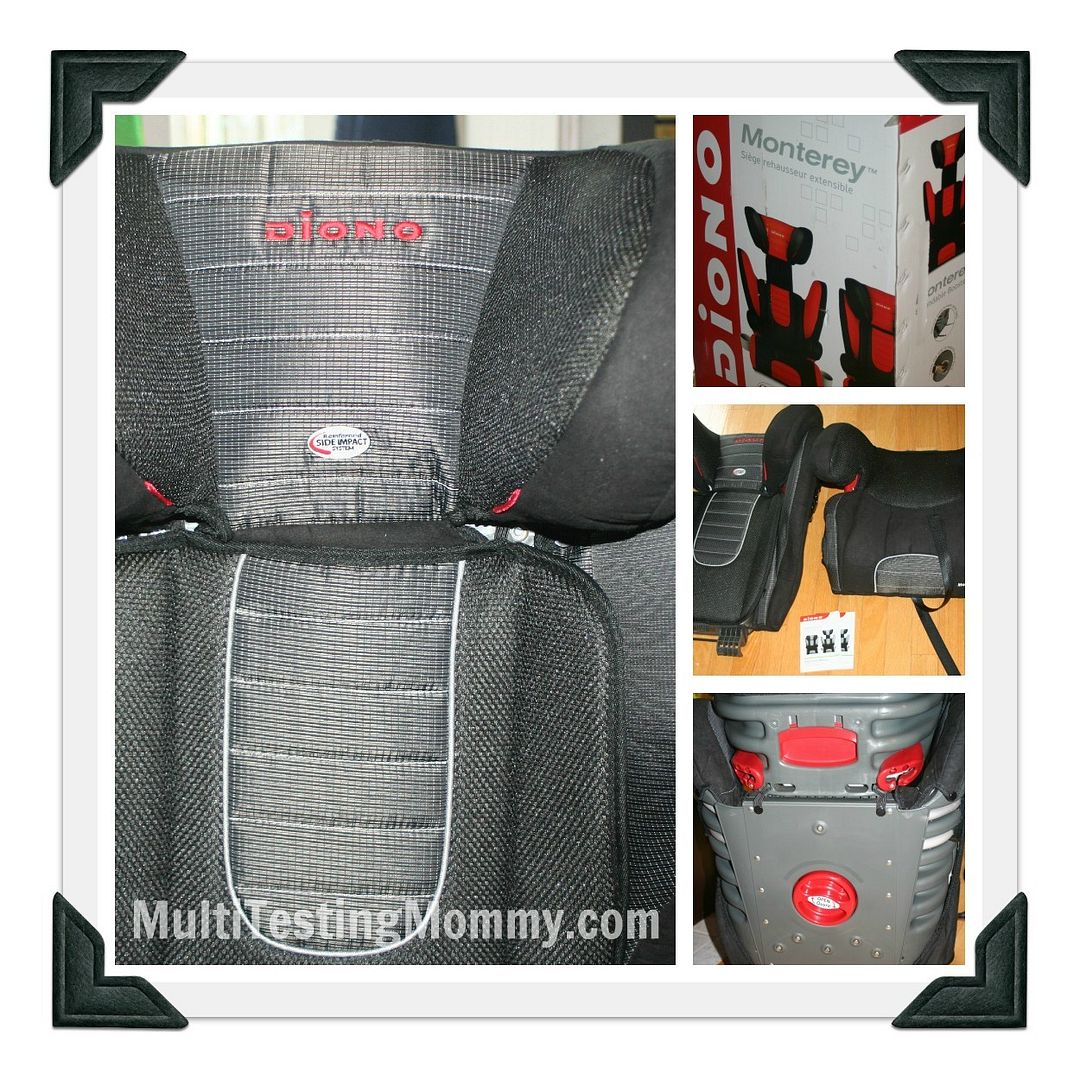 I couldn't believe how heavy the box was for this booster seat, but this is a good thing because it means that the seat is well constructed, and that it is!
This seat is solid.
First of all, the high back booster allows for extra side protection in the case of an accident. What I really like about the head rest is that when my daughter falls asleep on longer trips, her head (and body) doesn't fall right over! There is a large head rest for her to sleep on.
Safety and comfort would be the two things that I look for when purchasing a car seat for my child and this seat definitely has both.
What I Love:
This booster seat is adjustable and can accommodate a child up to 120 lbs and 63" tall. I love how you can EASILY widen the seat for larger children (and narrow it for smaller ones to allow for extra comfort and protection).
We chose to put this seat into my husband's car which means that Monday to Friday during the day, my daughter won't be riding in it. I don't love how most booster seats aren't attached to the car and therefore can become projectiles if the car stops quickly. The Diono Monterey has an optional latch system that keeps the seat in place.
My daughter's water cup stays in place with the unique, tight fit design of the dual cup holders! Her cup falls out of her other booster seat all of the time which is frustrating, inconvenient and dangerous!
This booster seat was VERY easy to put together and take apart. Although it is heavy (this is a must for the safety features of the seat), it comes apart easily for travel too.
Booster Seat Features:
Deep, reinforced sides are lined with energy-absorbing EPS foam for side-impact protection
Accommodates a growing child up to 120 lbs and 63" tall
Expandable seatback to fit a child's shoulders up to 20" wide
Adjustable 11-position headrest for a comfortable, custom fit
Optional use of the integrated LATCH connectors allow for a safe and secure installation
Seat bottom has thick, AirTek™ foam for comfort. This seat looks and feels comfortable! It is designed with comfort in mind.
Cup Holders in both sides
SnuggleBugz has some of the best Customer Service around! After ordering my seat, I was promptly sent an email explaining that they would email me once my item was shipped (which they did). I also received a second email from the explaining that my item was at another store and it would take a short amount of time for them to get it in and then shipped out to me. They sure did help me keep on top of the shipment! The seat arrived within a week of ordering it. Speedy service! This is a company with HEART! One of my friends was recently in a car accident and SnuggleBugz was kind enough to provide her with a Britax Frontier XT to replace her daughter's old one.
You can follow SnuggleBugz on Twitter and Facebook.
IT'S GIVEAWAY TIME!


You can win: 1 Diono Monterey Booster Seat
Open to Canadian Residents Only
Giveaway ends August 15, 2012
a Rafflecopter giveaway
---
Pin It
Check out Multi-Testing Mommy's Current Giveaways
---
Multi-Testing Mommy was provided with promotional materials free of charge, by the manufacturer or a representing PR agency, in the hopes that it would be mentioned on this blog. Opinions expressed belong to Multi-Testing Mommy and are NOT influenced in any way. See MTM's Disclosure for more details.