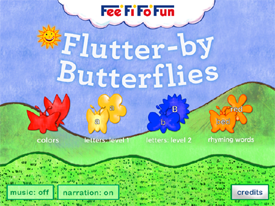 The colourful homescreen of
Flutter-by Butterflies
sets a bright and cheerful tone for this fun and education app for young children!
This app has four activities for young children to play:
Colour Matching
– Very young children can match colourful butterflies to their matching coloured flower.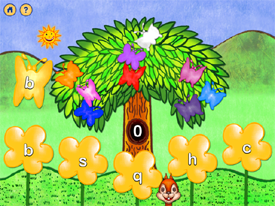 Letter Matching
– there are two levels to letter matching. In level one, children match letters together. In level two, an added challenge requires the children to match upper and lower case letters. This game is especially appropriate for toddlers or young preschoolers as there is a built in feature that makes the activity easier as they go. If they select the wrong choice, that flower closes so that they no longer can select that letter.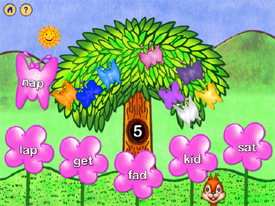 Rhyming Words
– early readers read a 3 letter word (the app also says it aloud for them) and they must use their eyes and their word knowledge to match the rhyming words. We love how the rhyming words are announced twice in order for the child to truly hear what they sound like.
We also love how this app takes children through easy (colour matching) to more challenging activities (rhyming words). There is a natural progression for younger children and for slightly older preschoolers, they can select which activity they would like to play.
It is a nice feature how the letters and words are all stated clearly by the app as you select them so that children can learn the letters and words that they don't recognize. There are also added small features built into this app that make it extra user friendly for the young child. This app is rated for 18 months and up. I'm thinking that two and up might be more appropriate, due to the knowledge and hand eye coordination required.
There is even a small math component to this app. When you complete a match correctly, you get a certain number of bees that fly into the tree and get counted with a number of your total points displayed in the tree. I really wish that the bees would count out loud for a more interactive math component.
The one criticism that we would like to share is that the home "button" is very small and might be difficult for some children with less motor control to accurately touch. We did review this app on an iPhone so likely on an iPad it would be much larger and easier to press.
Overall, this bright and cheerful app is a fun and educational app for young children to learn their letters, colours and rhyming sense. This app also helps children to develop their hand eye coordination and their fine motor control.
---
Check out Multi-Testing Mommy's Current Giveaways
Find contests for your COUNTRY
---
Multi-Testing Mommy received compensation and was provided with promotional materials free of charge, by the manufacturer or a representing PR agency. Opinions expressed belong to Multi-Testing Mommy and are NOT influenced in any way. See MTM's Disclosure for more details.