This post is a guest post written by Stacey Allen-Cillis, Oliver's Mom
---
We are not only growing vegetables, we are growing adults.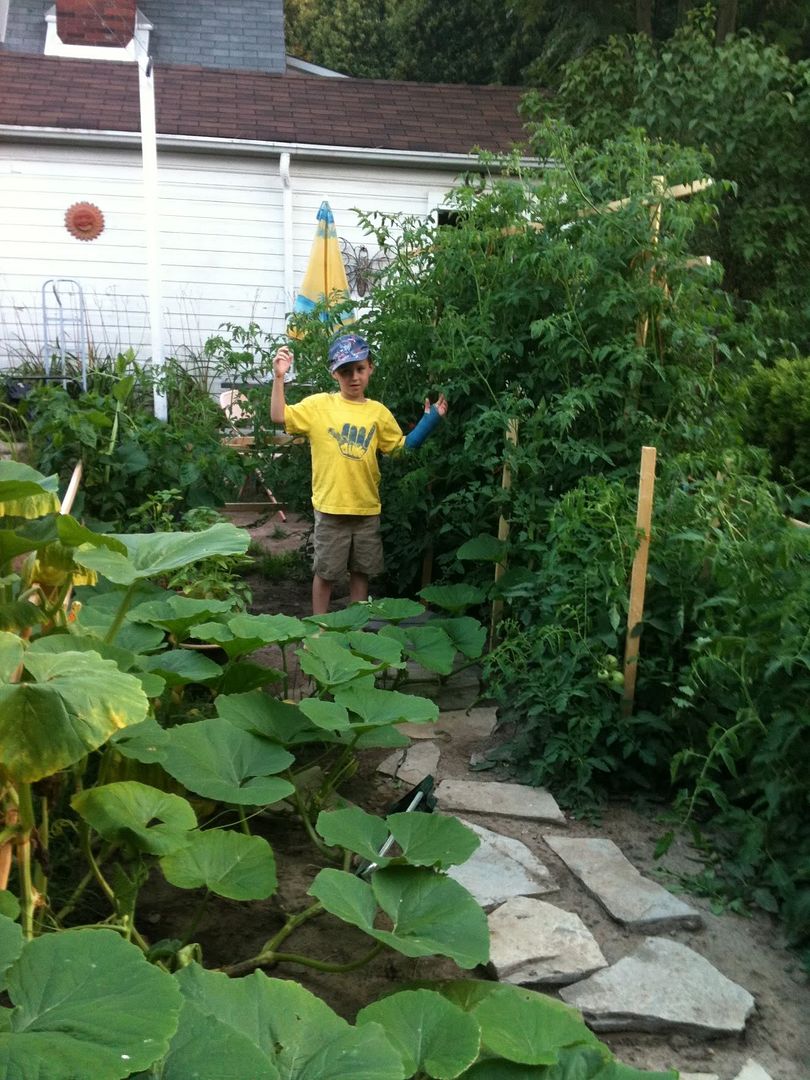 Oliver's Garden Project
is a children's based initiative, growing organic vegetables in your backyard, selling the excess and sending the profits to local youth charities.
Oliver's Garden Project was started because at the time our 6 year old son wanted to help kids that may not have what they need, e.g. food or clothes.
Oliver and I were driving and he spotted 2 young boys digging through some blue bins. He asked me why they would be doing that. I said to him, perhaps they need to return bottles for cash in order to get what they need. His reply was, "no kids should not be hungry, I want to sell our veggies and give the money to kids in our community". We were already growing vegetables in our backyard with the intent to sell them and use the money for a family trip. Oliver convinced us otherwise! With the help of 5 year old sister Piper, Oliver's Garden Project was born.
The family trip is still postponed.
We created our own handmade veggie stand and started selling on our front lawn: tomatoes, peppers and basil and 100% of vegetable sales were going to local youth charities. Piper acted as 'veggie stand PR' and brought in the passers by while Oliver was answering questions and in charge of the donation jar. I blogged about this experience and shared it on Twitter and Facebook.

It snowballed.
We have had the wonderful support of our neighbours and were privileged to sell our wares at the Ottawa Street Market. HCGN (Hamilton Community Garden Network) tweeted, the Scott Thompson Show on CHML had us on air and The Hamilton Spectator wrote 2 articles. Before we knew it we were entered into the Gardens For Good contest through Nature's Path Organic Foods to win a grant. Clare Wagner of HCGN and I met and devised a proposal to submit, all based on a voting system. The results were for 1 Canadian and 2 American projects to each win a $20 000 grant.
WE WON! Top voted idea for Canada!
Now with HCGN and Clare's help we are going to continue our project throughout our neighbourhood. We are looking for 5 or 6 families to apply to have their back yard transformed into an urban organic vegetable garden. In turn, what they don't eat themselves they will sell and proceeds will go to kids' charities. Our first donation was made to The Living Rock of $450!
We will have tool sharing and seedling production at Parkview Secondary as well as workshops and garden kits available to others who want to be a part of our amazing adventure. Teaching our children the importance of growing our own food and the business of selling and the experience of giving back is one that will last them a lifetime.
We appreciate any support in keeping this project sustainable. Our future goals are to build a greenhouse to have year round access to fresh produce and the ability to keep educating youth.
Donations can be made through our website, www.oliversgardenproject.com
Thank you very much for taking the time to learn about Oliver's Garden Project.
---
Pin It
Check out Multi-Testing Mommy's Giveaways
---
Toy Clearance Sale at chapters.indigo.ca!
---