My six year old daughter and I made these sugar cookies together in preparation for an upcoming Bridal Shower.
This is a perfect recipe for children to help with because there are many jobs just perfect for little people!
Here are some tips when making sugar cookies:
Remember flour is your friend (you can use icing sugar instead) – flour your work surface and your rolling pin.
I have recently bought some amazing rolling pin elastics to help me roll out my dough evenly – they work SO well!
If your dough is at room temperature, it can get difficult to work with, try putting it in the fridge for 10 minutes to chill. I keep my extra dough in the fridge while I work in small batches.
Stacking cooling racks are a must when you are making large batches of cookies! Unless you have been blessed with a HUGE kitchen.
I used my Pampered Chef stoneware for the first time ever and by FAR this pan made the best cookies, they weren't even brown on the bottom at all!
Sugar Cookie Recipe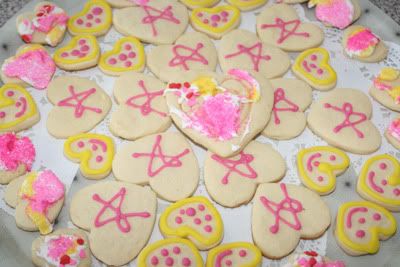 Ingredients
1 cup butter (unsalted then add the salt OR salted and omit the extra salt)
1.5 cups sugar
2 eggs
2 tsp vanilla (can use almond extract if you wish)
3.5 cups flour
1/4 tsp salt (omit IF you used salted butter)
1 tsp baking powder
Directions
In electric mixer, beat butter and sugar until light and fluffy.
Add eggs and vanilla and beat until combined.
Add flour, salt (if you used unsalted butter) and baking powder and beat until smooth.
Place dough in the fridge for 10 minutes (this makes it easier to roll and transfer onto baking sheets).
Roll out dough (remember to flour your work surface) and use cookie cutters to cut out desired shapes.
Place on cookie sheets and bake in a 350 degree oven for 10 minutes.
Note: Some bakers believe that placing the cut out cookies that are on the baking sheets in the fridge for 10 minutes will prevent spreading, however, I don't find this necessary with this recipe.
For more tips on making Sugar Cookies, be sure to read this post on Baking Tips for Sugar Cookies.