The answer: Both are killers. And for both, early detection is key.
FIRE FACTS:
Eight Canadians die every week from fires, with residential fires accounting for 73 per cent of these fatalities. Sadly, many of these deaths could be prevented with proper placement and replacement of smoke alarms, carbon monoxide detectors and fire extinguishers.
Cooking is the leading cause of house fires in Alberta, British Columbia, Ontario and Saskatchewan. Other common causes include electrical equipment, smoking and candles.
Canada's most trusted home safety brand, First Alert, has developed a new line of pink ribbon fire safety products. For each product sold, First Alert will donate $1 to the Canadian Breast Cancer Foundation.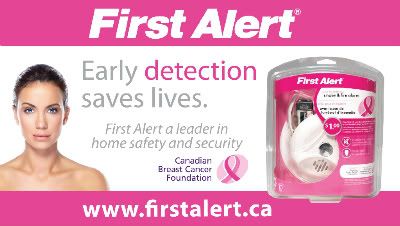 Ontario Fire Statistics (Statistics are from the Office of the Fire Marshall, Ontario)
On average, Ontario has 96 fire deaths per year and 840 injuries caused by fire
Cooking is the number one cause of fire injury in Ontario
Other common causes of Ontario fires are cigarettes, candles and electrical equipment
On average, 71 per cent of structures lost in Ontario fires are residential
Very scary facts!
Giveaway has ended.