Finally – an environmentally friendly potty for potty training kids!
The BecoPotty.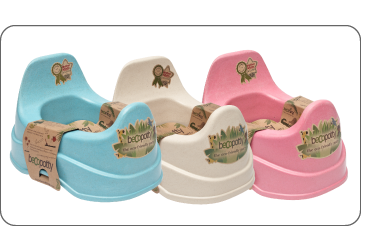 Beco Potty – the Environmentally Friendly Potty
These amazing potties are made from waste plant material and once placed in the ground will begin biodegrading! What a genius invention! We use little potties for such a short period of time – I feel so good about what this potty is made of and how you can plant it in your garden! What a great ceremony to celebrate the "end" of the potty training period in one's life – plant your potty in the garden!
The BecoPotty has a high back for comfort and a splash guard in the front (an absolute must for little boys, I've learned!).
A Becopotty starts life as bamboo waste and rice husks, which are leftover materials from farming. They take these natural plant fibres and grind them into a fine powder. By adding a biodegradable resin and pressing the powder in a hot mould a Becopotty is born. Fascinating!
The BecoPotty is available in pink, blue and beige/natural colours.
What I love about the small, lightweight potty is how portable it is compared to some potties out there. The shape of the bottom allows for easy picking up when it is "full" without tipping – parent friendly!
I am counting down the days to our celebration when my little guy is fully trained and we can plant our potty in the garden!
---
Check out Multi-Testing Mommy's Giveaways
Toy Clearance Sale at chapters.indigo.ca. Shop now to prepare for the holidays!
---
The above product was provided free of cost to Multi-Testing Mommy by the manufacturer or a representing PR agency. Opinions expressed belong to Multi-Testing Mommy and are NOT influenced in any way. Some posts on Multi-Testing Mommy have been sponsored, see MTM's Disclosure for more details.