This giveaway is part of #FDF (Finally Diaper Free), an event all about Potty Training co-hosted by The Knit Wit.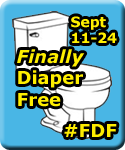 ---
I met @MandyNorwex last spring on Twitter and am I ever glad that I did!
Not only is she an amazing person, but she has taught me SO much about natural cleaning in my home!
Since having children, I have tried to change how I clean, using harsh and toxic chemicals is not good for anyone, but especially little people!
What Makes Norwex Cloths SO Great?
Norwex cleaning products are natural and the cloths are antimicrobial (embedded with silver). This means that you can clean with JUST
WATER
and your household surfaces become clean and bacteria free.
The cloths have been tested under very specific conditions, including hospital settings and have been proven to get rid of 99.9% of bacteria!
The best thing is, after you purchase a cloth or two, all you need is a cloth and water and you are ready to clean every room in your house!
It took me a month or so to become what Mandy calls a "true Norwexer". You have to trust a little bit, but once you start cleaning with these cloths, honestly, you'll never turn back and you too will become a "true Norwexer" I can almost guarantee it!
Potty Training and Norwex Cleaning Products
With Potty Training often comes many, many leaks, accidents and messes (and stinky ones too!). Mandy from
Mandy Knows Norwex
has been generous enough to offer up two amazing products to help with your Potty Training moments.
An Enviro Cloth that is a must for all of those accidents and messes that need to be cleaned up right away. These cloths are SUPER absorbant and they clean up the bacteria off of your floors (or any other surface) immediately!

and
Refresh Odour Neutralizer, a natural way to combat odours in every room in the house.
Please feel free to enter more giveaways while you are visiting Multi-Testing Mommy!
---
The above product was provided free of cost to Multi-Testing Mommy by the manufacturer or a representing PR agency. Opinions expressed belong to Multi-Testing Mommy and are NOT influenced in any way.